Once upon time, Phil woke up early.  If you don't know Phil quite like I do, know this: 'early' and 'Phil' do not usually find themselves in the same sentence.  Phil's a vampire, at least, that is what I have concluded in the 8 years that I have known him.  He sleeps all day and starts to stir as the sun goes down.  How he has ever held a 9 to 5 job is a miracle in and of itself.  I am forever grateful that he doesn't glitter in day light.  I can only imagine how embarrassing that would be.
So, you can imagine how startled I was to be woken up and then told not that he was bringing me breakfast in bed, but that I was to get up and get dressed because we were taking a road trip to Atlanta.  This confused me even more because it was a cold February morning, and the only thing I ever really go to Atlanta for is to watch a Braves game.  Turner Field is a ghost town in February.  All the baseball players are either taking it easy or playing winter ball somewhere warm.  If he had told me to guess what we were going to buy, I would have never guessed it in a million years.  Phil woke up with a wild craving for Chinese lamb.  Thankfully, Atlanta has its own little China town and a massive Asian grocery store, H-Mart, where you can get your random Chinese cravings.
After a quick stop at Burger King for some delicious Cini Minnies – I would kill for one right about now – we were on our way. Instead of taking the route I've almost always taken, Phil decided to drive up through Clemson.  It's take a little bit longer but it's a prettier drive. Not long after we crossed the border into Georgia, we started seeing signs for the Pendergrass Flea Market. There were just a few at first and then a few more and then then entire side of the interstate was littered with signs urging us to stop by and browse. Since we were in no big hurry, we decided to oblige the signs. I guess their advertising scheme worked.
Once there, we weren't overly impressed. I mean, it was just a flea market after all, albeit a large one. We walked around for a little, but didn't see anything that caught our fancy.  We were just about to leave and carry on with our Chinese lamb mission when I asked Phil if we could try and find the pet section – you know, just to look. I expected to see kittens, puppies, and birds – the flea market norm, and I did, but the first thing my eyes saw was a cute little baby Sugar Glider.
I have always liked Sugar Gliders, and ever since I was in high school I have wanted one as a pet, but I just want to state for the record that I was not the one who suggested we buy the adorable little fuzzy. No, it was not I, the lover of all things small, cute, and furry who decided it was a good idea to add a four legged creature to our family. It was Phil who looked at me and said, "Gabe, do you want it?"
Believe me, I wanted to say yes right then and there, but I was trying to be responsible. I've had pets before, and even though they're cute and fun to have around, pets are a huge responsibility. I didn't want the two of us buying on impulse. Impulse buying is bad. Impulse buying leads to regret and regret turns into neglect.
We debated it for a while. We weighed the pros and cons. We even took a walk around the flea market one more time before we made our decision. And, well, you surely know what happened or else you wouldn't be reading this now.
Luckily, the flea market had an ATM. Impulse buyers need ATMs . . . and well, people who don't normally carry big bills around on them for buying exotic animals.
On the way home, we tossed names back and forth trying to figure out which one fit our new little guy the best and finally decided upon the name Quantum. It was Phil's idea. Phil liked it because it sounded cool and science-like. I liked it because it reminded me of the show Quantum Leap.  Plus, I thought it would be really cool to train him to jump on command by saying, "Quantum, leap!"  Yeah, I'm cheesy.
Oh, and we never made it to H-Mart.  Instead of Chinese lamb, we got a Sugar Glider.
At first we were afraid we had made a mistake in buying him.   Our six inch bundle of joy weighing in at 1 ounce was a bit terrifying.  His crabbing scared the crap out of me, but later it just made me laugh.  He was a quick little devil, too.  I was constantly afraid he was going to slip under something and get lost or run out the front door.  Phil and I eventually Sugar Glider proofed the house so that he was less likely to disappear.  And like most baby animals snatched away from their mom and dad, he wanted nothing to do with us for the longest time.  For awhile, I thought he was never going to bond with us.   As time passed, he learned to trust us, and eventually, he came to love us.  In the end, we were a part of his colony.  He never wanted to leave our side . . . unless of course he spied a piece of corn somewhere.  Quantum loved his corn and he loved us even more because we fed it to him.
Cute baby Quantum.
Quantum thinking about eating a grape.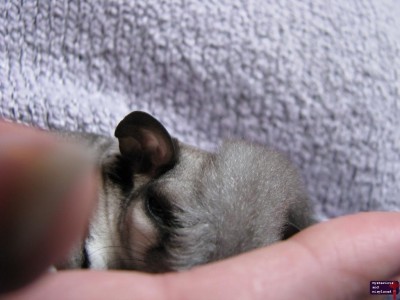 "Get that camera out of my face, woman!"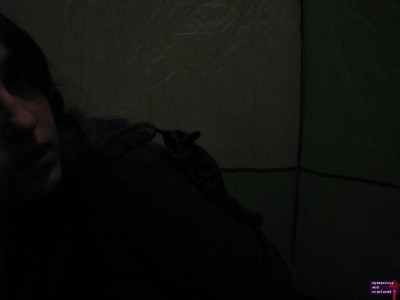 I cannot express in words how much Quantum hated our tent bonding sessions.
After a lot of research, we learned that Quantum needed a pal.  A lonely Sugar Glider is a sad Sugar Glider.  We looked and looked, but could not find a female that was the appropriate age, price, and within a reasonable distance.   Yeah, you guessed it.  I wanted Sugar Glider babies. 

By chance one day, I came across a Craig's List ad that met all of our requirements.  That afternoon we had Quantum a girlfriend.  Quantum, it turned out, was a complete saint and we never ever should have complained about his odd behavior.  Countess, as she came to be called, was completely insane and hated the fact that we even breathed.  If she could have held a gun, she would have held us at gun point and demanded that we release her back into the Australian forest that she came from because that is exactly what she was – a wild animal.   Two days after we got her, Phil was threatening to sell her.  I begged for him to give her a chance.  After months of being ravaged by her tiny teeth of death and running around for hours trying to catch her to put her back in her cage, she finally came around and decided that she would tolerate us.  After the birth of her two beautiful baby boys, she calmed down a lot.  She even thought I was decent enough to babysit while her and Quantum ran around causing havoc in the living room.  When she got comfortable enough to jump on me and began allowing me to pick her up without making me look like I had been in a fight with a thorny rose bush, I knew that she finally trusted me and that maybe, just maybe she even loved me.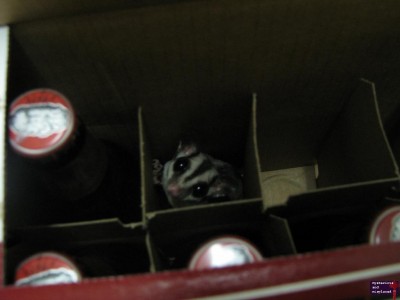 One night, like many nights, Countess vanished.  It was only when I heard a slight scratching sound that I was able to find her.  She loved hiding. I think she must have been a pro at Hide N' Go Seek in a past life.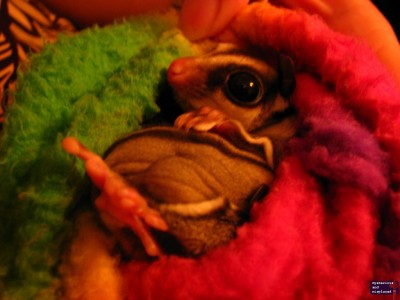 Here is Countess with one of her baby boys.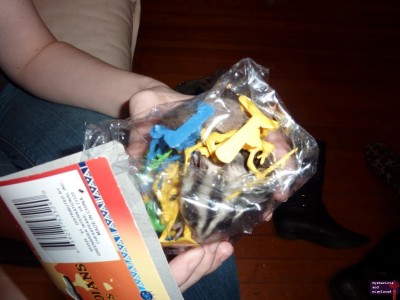 Here she is hiding in a bag full of plastic Cowboys and Indians.  It took Leigh and I an hour to find her.  Silly girl.
Like I said, Quantum and Countess had two beautiful baby boys.  After watching them grow up, I am a firm believer that genes play a large roll in who you become.  One of the boys acted and looked a lot like Quantum and the other had the same temperament as Countess.  We were reluctant to give them names at first, as we didn't want to get to attached to them before my good friend, Jody, adopted them, but it was a bit annoying calling them Baby 1 and Baby two all the time.  So, we gave them temporary names.  The one that was lazy and sweet like Quantum was called Corn Husk, since he too loved corn like you wouldn't believe.  And the one that complained a lot and didn't like being handled, we called him Nick.  His right ear had a tiny piece missing.  I am not sure if he was born that way or if parents or his brother slapped him around for being a jerk.   It was probably the latter. Jody ended up renaming them Codo and Podo after the ferrets in The Beastmaster.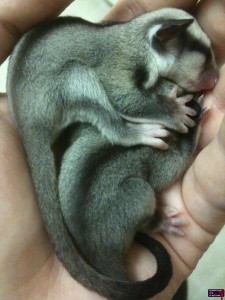 Codo and Podo loving on each other.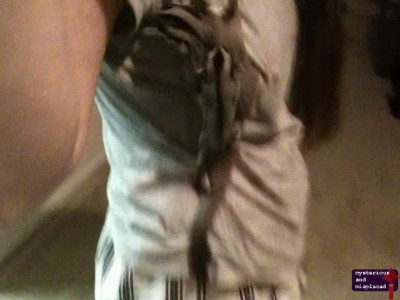 Quantum never enjoyed spending too much time with his boys.  I guess he thought that was Countess' job.  He had no idea what to do with them when they crawled on his back.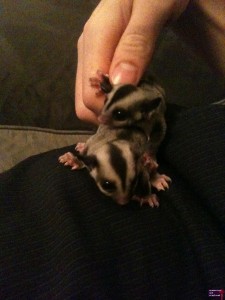 "Piggy back, bro?"  "Nah, man, get off!"

I think baby Sugar Gliders look like baby opossums, just cuter.
One day, Phil and I decided it would be a good idea to go back to China.  Okay, it was my idea more than anything, but Phil agreed.  The worst thing about deciding to go was that we couldn't take our babies with us.  Thankfully, we had a good friend, Leigh, who said she would watch them for us until we decided to come to our senses and come home.
Unfortunately, fate had other plans.  On April 1, 2010, Countess passed away.  She developed a uterus infection and the vets were unable to save her.  On July 25th, 2010, Quantum followed her to Sugar Glider heaven.  His death was an accident, but tragic nonetheless.
I can only imagine  Quantum's glee when he was shown the never ending pile of corn kernels  reaching  like a spire into the sky.  He's probably so fat now that he can't even move.  But I'm sure he is happy that way.  Fat and happy.
And Countess . . . well, I'm sure the Sugar Glider God is having a hell of a time finding her in His great big house.  I hope he knows to look in the Cowboy and Indian bag made in China.
A few more pictures . . .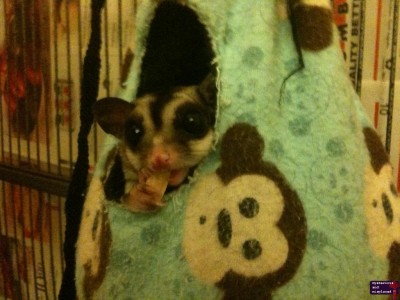 Quantum and his peanut.
Quantum the bat – eating upside down.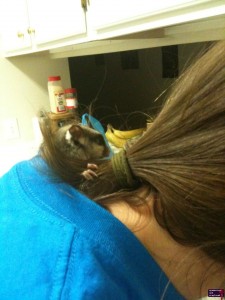 Quantum's hideout.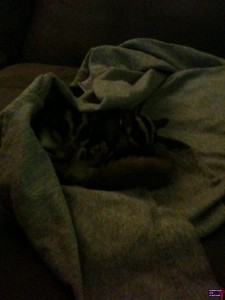 Quantum and Countess taking a rest in a t-shirt.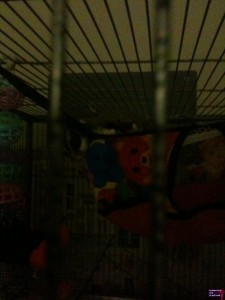 Quantum and his hammock.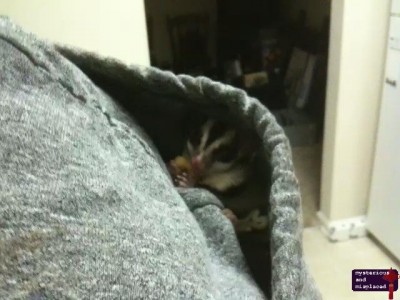 Quantum eating a piece of fruit in my hoody.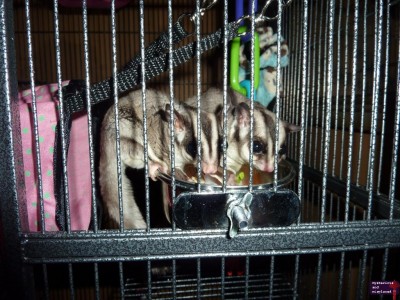 The last picture I ever took of the two of them.  It was the last night I saw them before I left for China.
We miss them so much.  We'll never forget them and the ways they made us laugh.