A few Saturdays ago, Phil and I were invited to go to a strawberry farm with a lady who works in my office.  This may come as a surprise, but I cannot remember ever going strawberry picking in South Carolina, even though we have many farms in the area.  I've only just bought them at roadside stands.  Phil said that his elementary school took him on a few field trips.   I guess my school wasn't as cool as his.
There were six of us all together – all couples.  I guess it was supposed to be a relationship building activity or something. 

The farm was just outside of the city, maybe twenty or so minutes.   Once you leave the city area of Linyi, the tall buildings fall away, and the landscape turns into farms.  There are vegetable farms and tree farms as far your eyes can see.  They all sorta just blend together after awhile.  This is why I never would have known the strawberry farm was there had the car not pulled over.  There were no visible sign or anything, at least not that I could tell.  I am not sure what sort of farm I imagined in my head before we got there, but I can tell you that I had no idea just how big the farm was going to be.  It was like Strawberry Heaven.  I have never seen so many strawberry plants in all my life.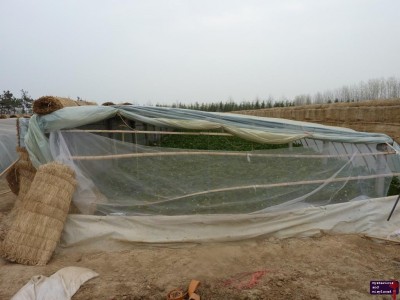 One of the greenhouses.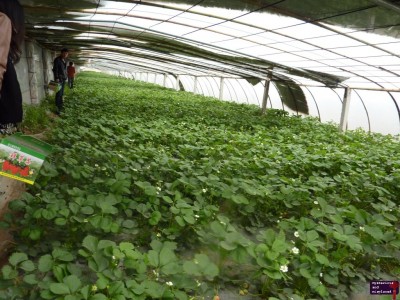 One of the Strawberry Heavens.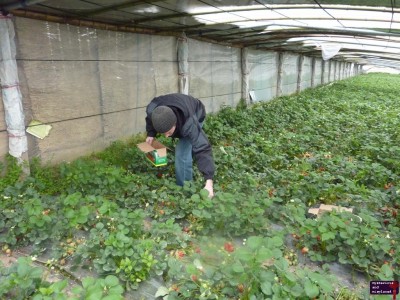 Phil picking some strawberries.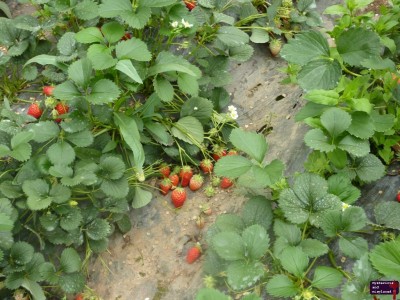 Walking through the paths were hard.  I kept stepping on strawberries.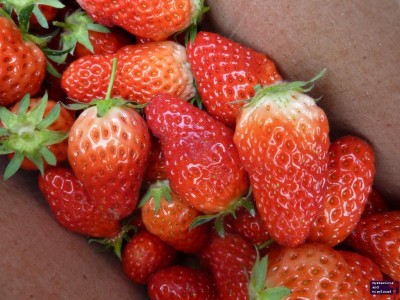 Some pretty strawberries.  Tasted pretty, too.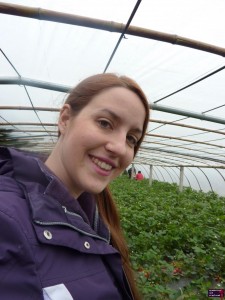 My hair is sorta the color of strawberries.
After we picked several boxes, we were driven to a restaurant in the country where we were going to have lunch. We had told the friend we went with what some of our favorite dishes were, but we didn't get any of those.  Instead, we were severed traditional country foods or at least what I imagine to be traditional country foods.  We were served a plate of cicadas, testicles, cold chicken with a strange gooey sauce, and cold pigs feet.  I somehow was able to eat a cicada, but I said absolutely no to the testicles.  I really don't know why Phil ate one.  Maybe he was feeling a little adventurous or something.  I'm not sure what made us sick as dogs, but the entire next day was spent throwing up and sitting on the pot.  We are no longer taking part in exotic country foods.  Our stomachs will not allow to ever happen again.   When we went to leave, I told my friend I had to stop in the bathroom for a second.  When she told me to be careful, all sorts of images flooded my mind.  I was like, "What is there to be careful of in a bathroom."  I soon found out what she meant.  Thankfully, I had experienced something like it before, so I wasn't too terribly bothered by what I saw.  There is no such thing as a western toilet in the middle of no where.  I was lucky to have a trough.  Scroll down to see, but I warn you, it isn't a pretty sight.  I took a picture only because I wanted you all to understand, not because I have some weird fetish for dirty bathrooms.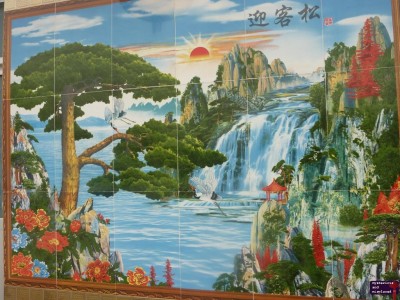 Pretty picture on the wall where we ate lunch.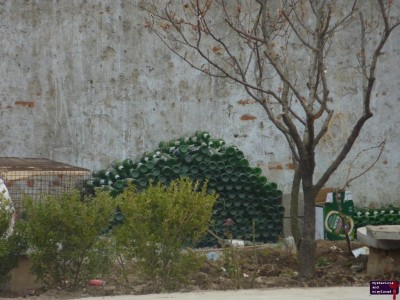 99 bottles of beer on the wall . . .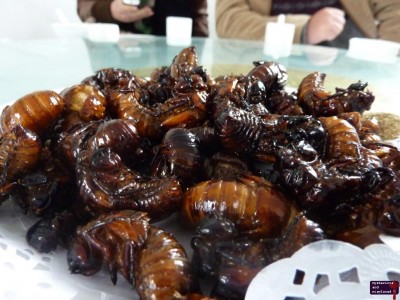 Cicadas = protein. I hope I never have to eat these when the Apocalypse begins.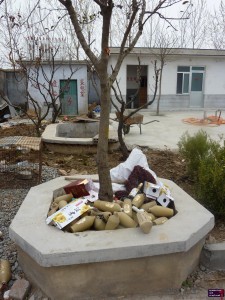 Baijiu tree.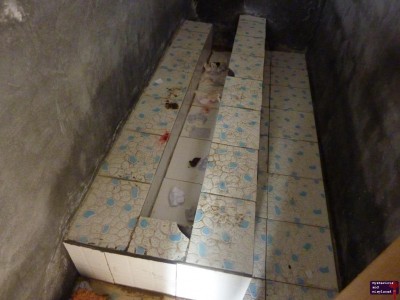 Probably the last picture of a toilet I will ever take.