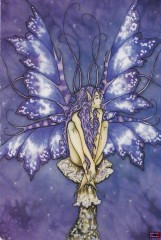 US-342840
Recently, I updated my Postcrossing profile with a more specific list of the types of postcards I would like to receive.  Postcrossing says that you can't demand a certain type of postcard, but that you can give suggestions to help other users choose from the postcards they have.  It is not that I didn't like the postcards I was getting.  All of my postcards are great.  I just wanted to let the other users know what I would enjoy most – if they had that type of card to send.
I indicated that I loved faeries, and if anyone had a postcard with a faerie on it, I would love to become its owner.  A few days later, this arrived in my mailbox.  It rocks not only because it is a faerie, but because it is a purple faerie. Anyone who knows me, knows how obsessed with purple I am.
I am almost certain that this an Amy Brown faerie, but I didn't see her signature anywhere on the front or a snippet on the back telling me so.  I asked the sender if it was, but she never got back to me.   Hot Topic use to sell Amy Brown faerie calenders, cards, and other stuff, but now I can't find her faeries anywhere other than online.  And this wasn't an originally a postcard.  The sender said it had been a regular card, but that she transformed it into a postcard for me because she knew how much I liked faeries.
If I was just a smidge talented, I would draw faeries all day long.  I can't even draw a stick figure properly.

  At work the other day, I tried to draw one just to see how it would turn out.  I found out that I am pretty good at wings, but I can't draw a face or body to save my life.
Phil thinks I am absolutely insane to believe that faeries actually exist.  I guess that is part of the kid in me that never grew up. 

  He thinks that people mistook hummingbirds or insects for faeries.  Maybe they did.  Who knows.