During my year and three day stint in China, there were a lot of things that happened that I never got around to blogging about. So, I want to take this time to go a little retro and return to those memories before they leave me forever. Some may be long and drawn out affairs, while others may just be a few lines. I don't know how many memories I will be able to muster up, so this project may only last a week or so. Hopefully, once I start writing, more and more memories will return to me. They may be more meaningful to me, but perhaps you'll be able to enjoy them, too. Well, without further adieu, let's jump head first into a random memory. This one is a bit funny, crazy and perhaps a bit sad, depending on how you look at it.
On no particular day in Fuyang, Phil and I started down our 118 stairs, 20 of which were between our bedroom and the front door, to venture out for the day. We were down about one and half stories, when a little Chinese boy ,about the age of five, ran into us on his way up. He stopped dead in his tracks, took one look at us, and turned back the way he'd come at about four or five times the speed. Before we could blink, he was gone. Phil and I looked at each other to make sure we weren't wearing scary Halloween masks, and then continued our descent. We were laughing. Neither one of us had ever had such an encounter before.
A few stories down, we ran into a young Chinese woman with a rather confused look on her face. It turned out that she could speak English, a little at least, and was on her way to our apartment to visit our roommate, Michael. She said that her son had just ran past her. She called to him a few times, but there was no reply. We said goodbye and down the stairs we went.
When we got to the base of the staircase we didn't see the boy. It was as though he had just disappeared. After a moment or so of looking around, Phil took a look to the right of the stairs and spotted him. The boy was white, tears were streaming down his face and he was clutching a dirty, rusty pipe as though someone had just opened a hatch into outer space and if he let go, he'd be sucked out.
"Oh, it's okay," I said. "I'm sorry." We both took a step closer to him. We were only trying to comfort and show him that there was nothing to be afraid of, but apparently, it didn't work. The boy started wailing and more tears poured from his eyes. We got down in a crouch, thinking that if we were down at his level it may help. It didn't. He wailed and cried some more, clutching even tighter to the pipe. A few moments later his mother appeared and tried to get him to come with her. He wouldn't budge. Finally, we figured that we weren't helping and decided to back off. Still in view of us, he refused to let go of his pipe. His mother continued to try and coax him back up the stairs, but he just wouldn't move. We apologized and decided to get going. We felt very bad, but a part of our souls just couldn't stop laughing as we turned the corner and went on with our day.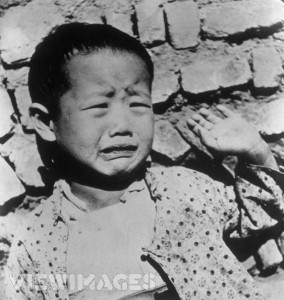 I of course didn't have a camera at the time, but the boy looked something like this.
"Get away from me, White Devils!"