When I walk into Carrefour or any other Chinese grocery store, there are a plethora of choices for breakfast, lunch and dinner. Some are normal, others unusual, and few that just freak the hell out of me. If you are in China, ever been to China, or are coming to China in the near future – you either know what I mean or you soon will.

Case and Point: Fresh Delicious Brain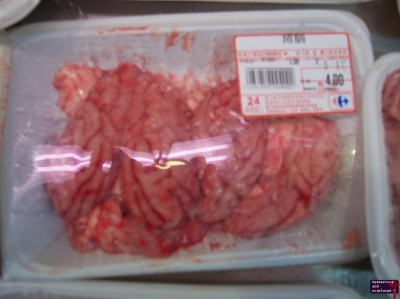 Yummy Specimen of Brain for only 4.00 RMB.
I probably shouldn't have been as surprised as I was to see it neatly packaged in the meat section considering that the Chinese eat just about everything of an animal, but it caught me off guard nonetheless. I stood there for a second staring at it, thinking about how exactly it would taste, and then I had to walk away or else puke everywhere.Once again, I wish that the picture came out better than it did, but I didn't want the Carrefour workers to come confiscate my camera. Some stores don't allow you to take pictures or movies, so I took it quick and on the wrong setting without really thinking. At least you can still tell that it's brains.
Just yesterday, I saw another freaky thing in the meat department. Both Phil and I looked at it and said, "What the hell is that?" "I have no idea what it is," Phil said. "I could be an awfully big rat." "Or a kangaroo," I said. "Want me to ask? "If you want to?" I tapped the lady standing beside it and asked, "这是什么?" (What is this?) I can't type the Chinese that she said, but she pointed to the weird looking thing, then to her butt and said something about a cow. What we were looking at was the tail of a cow with part of his/her back end attached. Ick. That's what I said. I just want to know who bought it and how in the world they cooked it. Ick. Ick. Ick.
For the most part, when Phil and I cook, we cook western type food. We haven't mastered the art of making Chinese food yet. I think that will only come with patience, a lot of practice and quite possibly a teacher. Living in Xiamen though, we have access to a lot of western food. We have to go to many stores to get all of what we want sometimes, but for the most part, life isn't that much different than it is back home. – save one or two instances here and there.