Sometimes, we find the darndest things when we walk around Xiamen.
The other day we went to go find the Ferris Wheel that we keep seeing when we go to Carrefour to buy our weekly groceries. For someone reason, we've never walked to the area behind Carrefour, probably because we always had 10 or so bags of groceries in our hands when we say to ourselves, "We really need to go see that. It looks cool."
What we expected to find behind Carrefour was a Ferris Wheel, and we did, but that wasn't it. To our surprise, we found a huge area sprinkled with "carnival" like activities. There were 3 or 4 game booths set up for people to play. They were fairly simple games and consisted of popping balloons and knocking over cans to win one of a few assorted prizes – usually a stuffed animal or some other random piece of plastic junk. There was even a pond area where you could rent animal themed boots to paddle around. If you really wanted to, you could give one of those plastic bubble balls that scare the crap out of me a test ride. Basically, they zip you up in a large plastic ball(makes people look like hamsters) , and toss you out in the water for a minute or two while everyone giggles at you as you attempt to maintain your balance and fail.
One of things that confused me was the English we heard coming over the loud speakers as we walked in. At first I had no idea where it was coming from and then I saw the large TV screen on the back of one of the buildings. It was playing the movie, The Bourne Supremacy, with Chinese subtitles of course. Several people had gathered to watch it. They were all sitting with there heads slightly tilted up with their mouths hanging open – like kids watching Saturday morning cartoons.
The one thing I did not expect to see was the life size boat in the middle of all this. I wish my picture of it had come out better, but my camera doesn't like taking night photos. The other side of the boat is even prettier because all the sails have pretty blue light all over them. When I tried taking a picture of it, all of the photos came out blurry. I don't know if the boat has a functional purpose or not or if it is just meant to sit there and look pretty. There is a fairly nice hotel to the right of it and I think the two are connected. Perhaps the hotel uses if for something special. Either way, it was a pretty cool find – just one of the many that we come across when walking through Xiamen.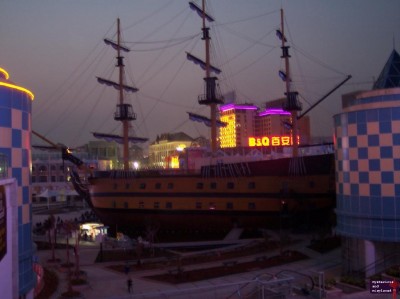 What the last typhoon brought to the middle of Xiamen.