Here are a few pictures from our little trip down to Hong Kong. We were only there a few days, but I must say that I really liked it there. It was a bit too expensive for my blood, but the city was clean(and I mean very clean), easy to get around(I loved the subway), and it had many interesting things to go see(even though we were only able to see a few of them). One of the things I really liked was the big buildings. I've never been to New York City, but I imagine that Hong Kong is a lot like it. As soon as I got off the subway and walked out to the street, I could feel the buildings hovering over me. I felt like a little bitty ant. At night the buildings were really fantastic. The light shows they put on were something else. I liked walking down the streets just to see all the different displays on them.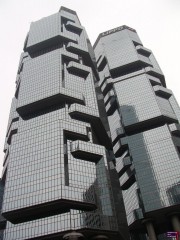 One of the cooler buildings we saw. It almost doesn't look real.
One of the days that we were there, we decided to go to Honk Kong Park. It was listed as a good place to visit in one of the maps we picked up(that cost 50
Hong
Kong dollars!!!) so we thought we'd give it a go. It looked interesting to me because it had a huge aviary with more than 800 species of birds. Ever since I volunteered at Carolina Wildlife Care, I've become very fond of birds. We got there to find it closed because dead birds infected with the avian flu had been found within 3 km of the aviary. How very depressed I was. As we walked around though, we saw some birds flocking to an apartment building. To my astonishment, they were Cockatoos! I know that
Hong
Kong is a little tropical, but Cockatoos?! I have no idea how they were out flying like they were, but if I had to guess, I would say that they are much like the birds in California – the Parrots of Telegraph Hill. Everyone has their own idea on how the parrots took up residents there.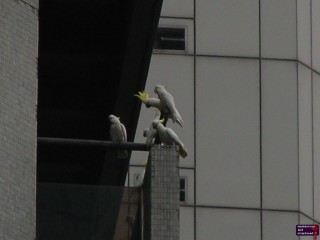 Nice photographing skills, Phil! I wish these were the birds visiting my bird feeder!
This is another picture taken at Hong Kong Park. We don't have arches like these back home, but they are nearly every where in China. I remember hearing about their significance at one point, but my memory fails me right now. If I ever have a big enough garden in my backyard, I am going to put a slew of these in it. They are like gigantic frames and the scenery of the garden are their pictures. Gotta love Chinese architecture.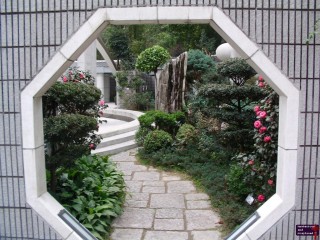 A nice place to wander around and get lost.
Okay, this doesn't have much to do with Hong Kong, but after Phil took a picture of it at one of the McDonald's we ate at, I couldn't resist putting it on here. You have to admit that it's pretty freaking hysterical. Before you go thinking that this is just some more Chinglish, I have to tell you that the original message on the box was – Sweet Taro Pie. Taro is a potato. Phil just thought it looked much more interesting the other way and photoshopped it. After giving it the name, we've both had a hard time calling it by it's original one. You must know how nick names stick, especially if they are funny ones. The real kicker is the picture of the girl kissing the guy. The expression on his face is just great. The "Caution, I'm hot" adds to the humor as well.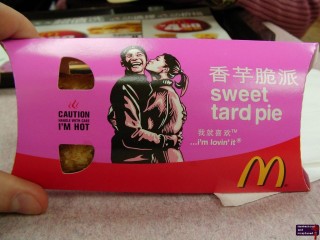 Oh, my Sweet Tard Pie.