Apparently, the third time isn't the charm. I wish that I could say that we were in Shenyang, but I'm sorry to say that somehow we are still here in Beijing.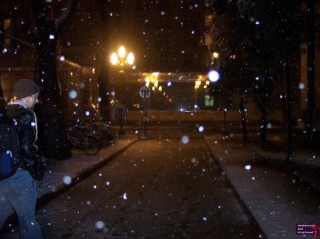 Snow falling Sunday morning in Beijing.
For the second day in the row, the third actual attempt to leave Beijing, we got up at 9:45 and met in the lobby to wait on the ever trusty WECL bus to take us to the airport. It rolled up right on schedule, this time clear of any snow. The majority of it has melted since Sunday. Only a few large clumps here and there remain. It's still cold, but it is slowly getting warmer or either I'm getting used to it. We threw our bags in the back again, and at 11:00 am we took off for the airport. Our plane was scheduled to leave at 1:30 pm, so we were leaving in plenty of time. Why we didn't leave this early when we had the snow storm is beyond me – not that it would have mattered; our flight was canceled. We even took the interstate this time too. I guess they just wanted to make sure we got there in plenty of time. And oh, we did. We had more time to play with than we ever wanted or needed.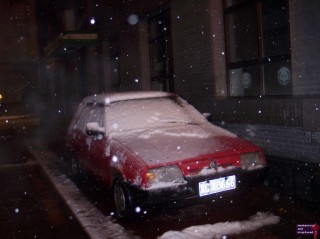 A car covered in the snow.
We arrived at the airport at approximately 11:30, and decided to have lunch since we had all the time in the world before our plane would take off. Richard paid for it so that was nice. I've said it before, but we are running low on cash, and a meal at the airport would have put another dent in our already empty wallet. We went through security and got down at the terminal at around 12:30 where we soon found out that the Shenyang airport would be closed until 2:00. 2:00 came and went, and so did 3:00. We sat and waited until 4:00 when we got the green light for boarding. I was so happy that I started singing the "I'm so excited" song and got funny stares from my fellow travelers. We got on the plane thinking that we would be taking off soon, but found out there would be another delay because there was too much traffic at the Shenyang airport. That was to be expected because the airport had been closed for 2 days and they had to reschedule all the flights that were supposed to have already come and gone.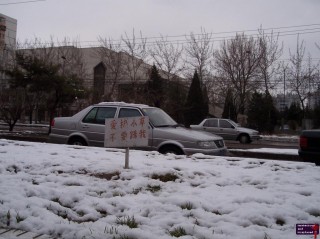 Sunday afternoon, the snow begins to melt.
After sitting on the plane for about 30 to 45 minutes, they passed out that weird Chinese biscuit thing again. It sorta reminded me of a Arby's roast beef sandwich if I closed my eyes, but of course, I have an over active imagination – so don't believe a word I say. Then the real waiting game began. We sat twiddling our thumbs until about 8:30 pm – yes, you read that right – 8:30 pm when they said we would have to get off the plane. Everyone grumbled, I cried, but off we went. We got on the little shuttle bus that they had waiting for us and stood there for awhile. One of the workers came in holding two back packs trying to figure out who they belonged to, but know one knew. How in the world can you get off the airplane and forget your belongings?! The other thing is that they didn't confiscate it like they would have in the States or call the bomb squad. They just chucked it in with us and closed the doors, but we didn't leave. This part of the story is rather confusing. I don't why they made us get on the shuttle bus just to open their doors 20 minutes later to have us get back on the airplane. We took it as good news, so we did without too much of a complaint.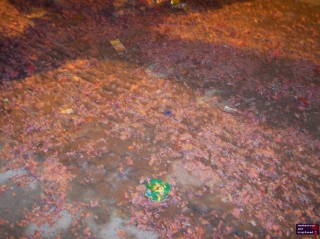 The remains of a thousand fireworks and a single leaf in Hangzhou.
After we got back on the plane and got situated again, they came over the loud speaker and informed us that we would still be delayed. Everyone grumbled. The one thing that I found surprising is that everyone took this pretty well. People were laughing and trying to enjoy themselves. I mean, people were asking questions, but for as long as we were on that plane – the people were very well behaved. They rolled the cart back down the isle and gave us dinner and another drink after and then we waited some more. We waited until 10:30 when they finally said that air traffic control had given them the green light. Everyone clapped, but a guy from England sitting behind us sarcastically said, "We haven't taken off yet." We taxied to the runway and waited for a few planes to land. And then it was our turn. As we took for Shenyang, I waved goodbye to Beijing hoping not to see it for another four months. If only I had known what was to happen – I probably would have just shot myself and put myself out of my misery. I'm sure a good many others would have followed suit.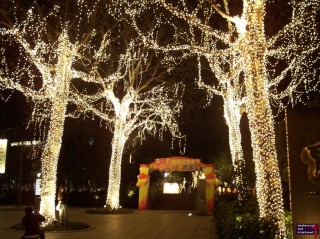 Pretty lit up trees in Hangzhou.
Somehow or another, I always end up with the window seat whether it is a plane, a bus or a car. It just happens that way, but it makes Phil angry. After we had gotten in the air and were given permission to move about the cabin, Phil made the comment that once again I had the window seat. I replied, "You had 6.5 hours to change seats with me and now you bring this up?" I stood up and let him squeeze in behind me. Like a little kid he stared out at the darkness below him wondering who the one little light belonged to and why in the world they lived out in the middle of absolute no where. There wasn't a single cloud in the sky, so it was actually possible to see the snow covered ground below us. The full moon helped illuminate it too. Sometime during the flight Phil said he thought something was amiss because he had seen the moon, then not seen it, and then saw it again. Also, he had seen the same little city below him a few times. This would have been impossible if we were going straight as we all know. Maybe I was in denial. I wanted to get to Shenyang so bad that I didn't want to even have the idea that we were turning back in my head. For the first time in a long time, I was the one being optimistic.
The lights in the cabin came on. I thought maybe we were about to begin our descent, but there was no big cities lights down below us. I began to panic. Phil still insisted that we were turning around, but I still refused to believe him. A few minutes after the lights of the cabin had come back on, "they"(the infamous they) came on over the speaker to tell us that there was no room at the Shenyang airport for us and that they had to go back to Beijing. You should have heard the moans and the slight screams that emitted from the rest of the passengers. We were all in shock. This was unbelievable. How could we get this close to Shenyang just to be denied. As Richard later said, "Why does God make us suffer so much?"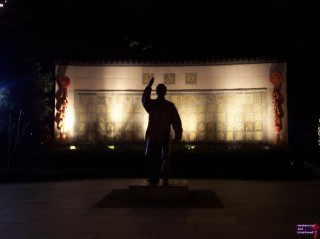 A cool picture of a random important statue in Hangzhou.
We landed back in Beijing at about 12:20 am, and then were given the option to get off the plane if we wanted. After discussing it for a minute, we decided that it was probably the best thing to do. So we did. Surprisingly, most people stayed on. They sure were a determined bunch of people. I hope that eventually got there or that they didn't have to sit there for another 8 hours before they were finally be able to leave – again. They shuttled us back to the airport terminal, we got out, and then started a new waiting game called – where is our luggage. When we left the airplane, they checked our tickets so that the could get our luggage off, but as we waited for the shuttle to take us back, we never saw them pull up a truck or one of those escalator like things. We sat on the carousel that they said our luggage would be, but for the longest time the carousel just circled. At least we were given the opportunity to read all of the advertisements printed on it. In time, our luggage did come. Well, that is not entirely true. Everyone's but Richard's got there. He had to go to the lost and found counter and have then look for it, but they couldn't find it. They said that it wasn't on the airplane. Richard didn't look happy, but there was nothing he could do. He gave the people his information, and at 2:00 we finally left the airport.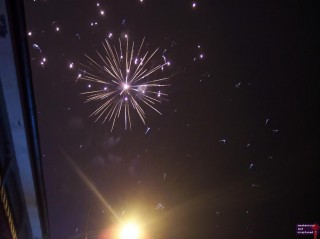 One of the many fireworks for the New Year celebrations in Hangzhou.
For the second time in three days, we headed back to Richard's car. Once again we somehow fit all of our luggage and our four bodies in it. The Beijing Airport is rather dead at 2:00 am in the morning. There's no traffic on the interstate either, so that made getting back to school rather easy. We got back at around 2:30 and fell fast asleep. We were all so very exhausted. We don't know when we are leaving or how we are leaving, but we think it may be by train and sometime during the coming weekend. The thing is – another snow storm may or may not be coming for Shenyang on Friday and Saturday. I don't know if it will be as bad or if it will happen. If it does, I don't think we will be leaving Beijing by plane, train or automobile for sometime. For now, we are stuck. This sucks. I think that this is the most insane trip I've ever had. I almost feel like I've entered the Twilight Zone or something just as strange. Like I said Shenyang doesn't want us; Beijing doesn't want us to leave.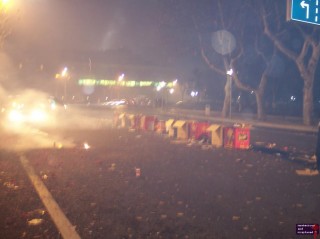 Fireworks in the middle of the street and cars driving through them in Hangzhou.