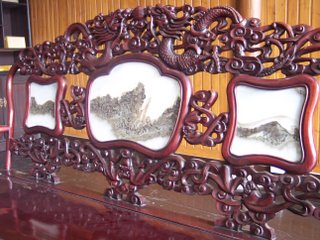 We found this pretty little bench in the gift shop at the end of our tour. After seeing the prices on the books for sale, we had to sit down to catch our breaths. The prices were pretty steep, at least more than I was willing to pay. I was hoping that they would have some smaller items for my cheap blood, but that didn't happen, and we left the gift shop without anything in tow.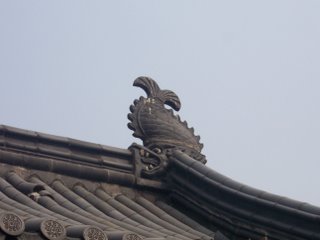 I am not sure exactly what you would call this. I thought it was a fish at first, but then I changed my mind and thought it looked more like a dragon. After looking at it for several minutes, I decided on the phrase – Fish Dragon. It seemed fitting. We had a tour guide, but she didn't speak a lick of English – go figure, so I never found out what it really was or what it symbolized if anything. The only good thing my guide was good at was pointing and motioning "this way" with her hand.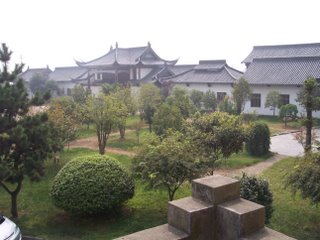 We climbed up some stairs into a building we shouldn't have gone into, but our tour guide hadn't found us yet. While I was up on the second story, I took this picture. The village is pretty even though it is a little run down. There are only a few more buildings than what you see in this picture. Like I said, the village is small. Hence the name – village. Heh.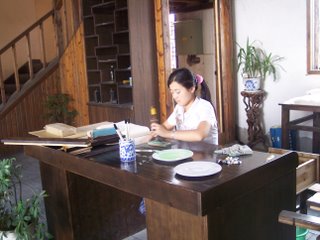 This looks like a fabulous job. All day she sits and paints this rubber flower stamp with some green paint and then gently presses it on the paper square. This process repeats itself over and over again. I was hoping to come across these little pieces of paper in the gift shop, but I never saw them.