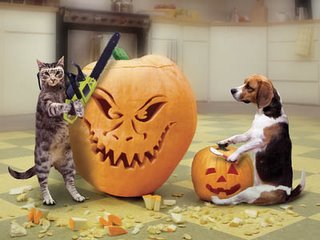 I did a search for a Halloween cat in Yahoo and this is one of the pictures that turned up. I thought it was pretty cute. It's great when people manipulate animals and make them do outrageous things like this.(Horray Photoshop) For some reason, it totally brightens my day.
Well, if you didn't know, Halloween doesn't exist here in China. Sad face. I am slowly trying to bring it over though. This week I am teaching my little devils about Halloween and the whole art of Trick or Treating. Like normal, some think that it is cool, and the rest of the 700 brats think it is boring, stupid and as uninteresting as me. I actually had a student tell me to my face that he didn't think I was interesting. How wonderful is it to hear that?
For the good students, I bought some Milk Candy. It's pretty cheap and good if I must say so myself. I find myself sticking my hand in the bag to nick a piece a bit to often. It's all going to my hips. I can feel it.
The fun part about teaching Halloween is that I get to scare the living heebie jeebies out of my students and feel justified doing it. When I tell them about haunted houses, I tell them that they are scary and then pick a random bored student who looks like he or she is sleeping and then scream SCARY in the ear while slamming my hands on their desk. Even the boys look like they are about to faint sometimes. The girls look like they might cry. And that really, really, makes my day a good day. I'm evil. I know. But you'd be evil too if you had to put up with their crap.
I do have a few good students, but not enough. I actually had a few of them call me Miss Cook last week and today one called me by my Chinese name – Zi Wei. I rarely hear Gabe. Mostly it is just Teacher! Teacher! I should start screaming Student! Student! and see how they like it.
But anyway, Happy Halloween. Hope some of you got my share of candy because I will be waiting patiently to get it when I finally come home in about 8 or so months – if China will let me leave that is . . .
Oh, and will someone eat a piece of Pumpkin Pie for me. I have been thinking about it all week. Nangua is Chinese for pumpkin, by-the-way. Some of Phil students gave him one. He needs to carve it soon before it starts to rot and we have to throw it out. Anyone have a funny suggestion on what to carve into it?
Post you ideas in the comment section, and if Phil likes your suggestion – I will post a picture of it after he is done.