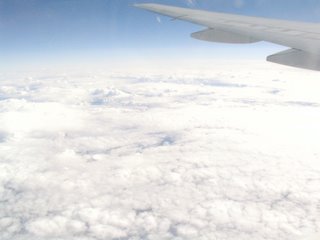 I have not gone into much of our flight over here, so I guess I will take the opportunity to do that now.
The flight was about 14.5 hours long. I don't care what anyone says. 14.5 hours is a long time to spend on a plane – too long. I was doing ok for the first 6 or so hours, but then I just started going crazy. Crazy is a word I introduced to my students this past week. The way I describe it to them is how I felt for the last long leg of our journey.
Picture someone standing silent and very still and looking very happy right in front of your face. Imagine yourself standing right in front of this person and thinking he or she appears to be the most sane person you have ever seen. Ok? Do you have a good image stuck there behind your eyes? Alright, good. KWAMABMO!!! The person now starts screaming and running around like a mad monkey, throwing his or her arms in the air and then finally puts his or her hands on your shoulder and starts shaking you. ~ Shake shake, shake shake, shake your booty. ~
That is exactly how I felt, except I also had an urge to puke on the pretty attendant that would walk by offering me random stupid things that I really didn't need. Toward the very end I went pretty nuts and came really close to using the barf bag that I have always seen but never needed. I couldn't even bring myself to eat my last meal. The thought of it made my tummy turn.
When I act out crazy, my student's flip out and nearly have a heart attack – especially the girls, but I get the boys sometimes, too. I love scaring the crap out of them. It brings much joy to my life. It helps me sleep at night knowing I have forever scarred them. Insert evil laughter. Hehe.
Here are a few more pictures of our flight over. The screen on the seat in front of me really helped me through the 14.5 hours of insanity. I never fell asleep. When we go home, I am so taking some sleeping pills, damnit.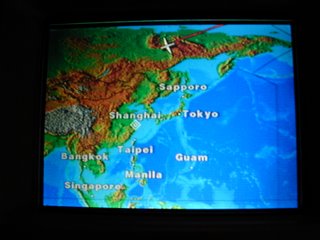 Just seeing the word Shanghai got me excited. Although, it also made this part of the trip drag, and drag, and drag. I thought after 3 hours that our plane had maybe gone 2 inches. I was probably just delirious. I probably was. All in all I was up for about 30 some hours. And we all know that a tired Gabe is not a happy Gabe. I have been nicknamed Grumpy on occasion for a reason. I think I would have been happy landing in Beijing at one point and living there. Anything just to off that damn plane.
After sitting in the airport for 30 minutes waiting for more teachers to arrive we got on bus that took us to a bus station where we got on another bus that took us Hangzhou. I remember at least 3 things vividly. 1 – I wanted to die because I felt like crap. 2 – I thought I was going to die because we had the craziest bus driver in the entire world. It was like we were in a game of Crazy Taxi, but worse. 3 – Are we there, YET?! I didn't think we would ever get to Hangzhou. It was the longest 70 KM I had ever driven.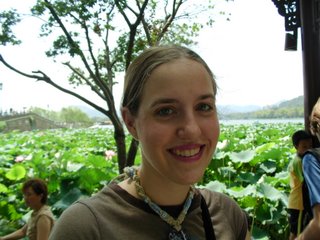 We stayed at a place called the Babel Language Center for a few days. Besides the beds being harder then the floor (no I am not lying – it truly was like sleeping on the floor) it wasn't all that bad. After getting some sleep, though, and some food and water, I was much happier. The picture to the left shows the excitement of my first day in China. The heat of China soon came, though, and wiped that happy smile off my face. As you can see from the picture below, the heat did not make me happy. I should have paid more attention to this day, though. It was one of the last days that I saw a blue sky. I miss my blue skies.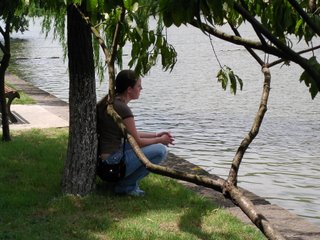 These pictures were taken at West Lake, as was the one taken of me above. West Lake was beautiful. Beautiful and hot. I need to go back when it is cooler. I would enjoy it more that way.
West Lake was covered in Lotus flowers in bloom.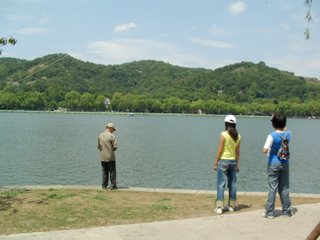 Here are some Chinese tourists enjoying West Lake, the view, and the heat that could of fried an egg on the pavement. I would pay someone to send me a piece of a South Carolina sky or any western sky for that matter. I didn't know how important a blue sky was until I didn't have one anymore. I guess that is how things work.