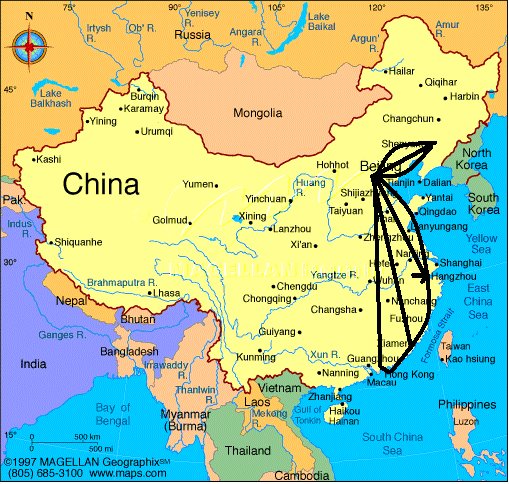 Ah. No more planes, buses, trains or automobiles. I never thought I would despise traveling so much or enjoy the pleasures of home like I do now. It's so nice to know that my home will be nice and stable for the next three months(at least) and that it won't have wings, tires, shake, or have the possibility of crashing. We've only been here four days now and I've already dug my feet into the ground and started growing roots. It's either going to take all of the men, women, and children of China ripping me up and dragging me out or a fierce typhoon to make me leave Xiamen.For those of you who have just arrived or missed some of the posts that talked about our crazy trip that bounced us all over China, let me bring you up to speed. For those who know all about it, take a look at the map above and get a good idea of just how far we've gone is such a little amount of time. I know think I can say that I have been to more places in China, than I can say I've been in my own country. There is something wrong about that, I think.
So, if you take a look at the map above, you will see a whole bunch of black lines going from one corner of China, one city at a time, to the other corner of China. Now you can understand my hatred for traveling. I think anyone would have a sour look upon their face if they had just gone through what we have. I'm just a little sad that I didn't make it any further west. I mean, if you are going to bounce us around China, you could have at least bounced us in all of the cardinal directions! :)Alright, hopefully, this final explanation of everywhere we've been will not become any bigger than it has. Every time I've thought its come to an end, something else has happened. This time though, I think the insanity has finally settled to the bottom of the ocean and won't be tempted to show it's evil face again.
From the top:
Fuyang to Hangzhou – by bus – 1 hour
Hangzhou to Beijing – by train – 14 hours – soft seat
Beijing to Shenzhen – by plane – 4 hours
Shenzhen to Hong Kong – by "train" – 1 hour
Hong Kong to Shenzhen – by "train" – 1 hour
Shenzhen to Hangzhou – by plane – 2 hours
Hangzhou to Tunxi – by bus – 2.5 hours
Tunxi to Huang Shan – by bus – 1.5 hours
Huang Shan to Tunxi – by bus – 1.5 hours
Tunxi to Hangzhou – by bus – 2.5 hours
Hangzhou to Beijing – by plane – 2 hours
1st attempt Beijing to Shenyang – by plane – 2 hours of sitting – Freak snow storm
2nd attempt Beijing to Shenyang – by plane – Flight canceled
3rd attempt Beijing to Shenyang – by plane – 14 hours of sitting for a one hour flight
4th attempt Beijing to Shenyang – by train – soft sleeper – 8 hours
Shenyang to Beijing – by train – soft seat – 9.5 hours
Beijing to Shenyang – by plane – 1 hour
Shenyang to Xiamen – by plane – 5.5 hours (delay and stop-over)
That's about 70 hours of traveling and is probably pretty accurate, but I wouldn't doubt it if it was actually more. I'm probably missing a bus ride or something in there somewhere. The worst part about it is that the only places we had actually planned on going after our contract was up in January was Huang Shan, Beijing, and of course Shenyang. It is true that we got to see a lot of China, but almost everywhere we went, we were trying to get important things done so that we could stay in China for the following semester. Because of that, we missed a lot of cool things in the cities that we were able to go. Maybe I will win the lottery or something, and be able to go back and enjoy them all at a much more leisurely pace. Heh, that would be nice.
And after all of that, there isn't much more to say on that subject. I guess that chapter of my life is over and it is time to move on to the next one. As crazy as this chapter was, I sure got some crazy stories out of it – that's for sure. And even though the experience at the time frustrated the living hell out of me, I know that I will have a good laugh when I'm 60 and sipping sweet tea on my front porch. . . ."Hey, Phil, do you remember the time we got bounced all over China."
I have a feeling that Xiamen is going to be good to us.