Another week, another set of postcards from around the world.
At work, when I start thinking about how long it is until I can go home, I start thinking about the possibilities awaiting me in my mailbox. Will there be a postcard from a country I haven't gotten one from yet? Will there be a thank you card from someone? Will it be written in a foreign language? What will be on the card? A fuzzy animal? Ancient scrolls from long ago? Colorful rocks? Or something self-made? Opening my mailbox is like opening a gift on my birthday. I never know what to expect.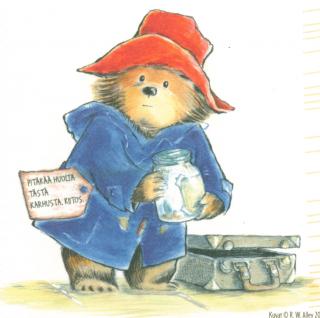 Can anyone read Finnish? I'd like to know what that says.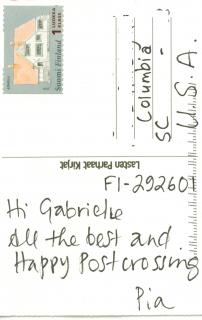 I guess Pia didn't have a lot to say.
When I first saw the front of this postcard, I thought it was from China, but no, it was sent from France. This is the first postcard that I have received from France. Postcrossing really is a learning experience. Almost every card I receive teaches me something I didn't know before. I think that's pretty cool.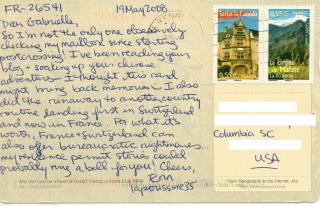 Hopefully, my obsession of checking the mailbox won't become debilitating. I'd hate to have to go to the doctor to get meds because I like getting mail – a lot.
I used to collect rocks when I was younger. I still have many of them sitting on a shelf somewhere.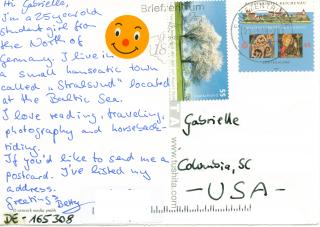 This is my 4th postcard from Germany.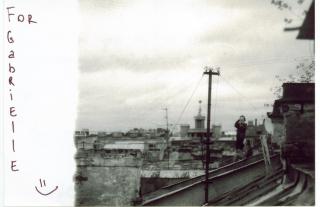 What a very interesting photograph. I really like how it is in black and white, and how she left the space on the left to write something. The frayed edge effect is really neat. This is the third hand-made card that I've received, and I can't figure out why many postcrossers don't want them. I really like them.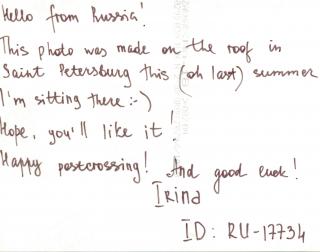 This one was actually sent to me in an envelope because it wasn't affixed to a thick backing. I don't think it would have made it all the way from Russia in one piece had it been sent by itself. I heard once that someone sent a banana through the mail. I wonder what in the world it looked like when it got to where it was going.