Postcrossing is making me obsessive-compulsive about my mailbox. Seriously.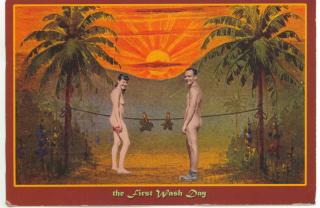 When I first looked at this, I was like, "Did someone just send me a picture of naked people?" Then I looked at it a little closer and figured out it was Adam and Eve and that they had just watched their underpants. I found it pretty funny. I'm confused why Adam is wearing shoes though. I didn't think they had that type of attire in the Garden of Eden.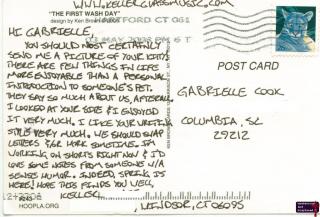 The kitty Keller is speaking of was temporarily possessed this past Saturday. She was panting like a dog and looked very, very evil. I knew something was very wrong when she let me pour several water cans over her and she didn't move. She seems to be better now, but she would have been a perfect fit for the resurrected cat in in Pet Sematary.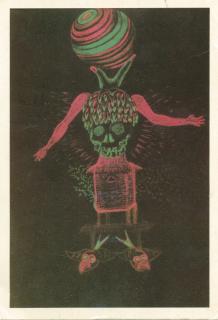 This is one of the most unusual cards I've received thus far. I had no idea this was a Salvador Dali painting. I'm telling you, I learn something everyday.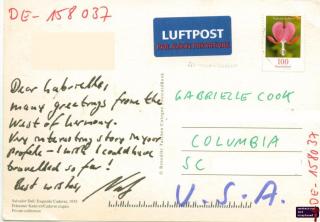 My mother and I both got a card from Germany on the same day. I noticed that both senders wrote their 1's exactly the same. I've never seen anyone write a 1 like that before. It looks like an upside down V. I wonder if all Germans write their 1's like that.
New Zealand. Phil really wants to visit this country. Neil and Kaliah, two people who taught with me in Fuyang lived in New Zealand for a spell. They showed me pictures of the view from their house. Man, was it beautiful. It didn't seem real.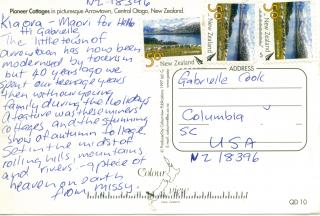 I found it odd that the stamps weren't canceled out like ours. Does this mean I can take the stamp off and put it on another postcard if I happen to be in New Zealand? If you are from New Zealand, and you are reading this, please comment.