It only took two days and about 8 different attempts to upload it, but here she is.  It's nothing super awesome, but if you've never been to Shanghai, it will give you an idea of what it looks like  – at least from a taxi window.  I've thought about putting one of the songs Youtube allows you to use because the wind is a bit annoying, but our internet sucks.  I'm lucky I was able to upload a 10 minute video at all.   In the States, it would be no problem.
I started the video just after we came out of the tunnel that runs under the river and takes you to and from Pudong.  Watching the video back, I'm surprised I didn't hear more horns honking.  Almost every where I go in China, I hear horns.  If it wasn't for the construction work going on outside my window, I would probably hear a blaring horn right now.  I guess because the traffic was moving so smoothly, there wasn't much need for them, but that hasn't ever stopped them before.  One day, I am going to go stand on a street corner(that sounds bad) and record all the horns I hear in a minute.  Sometimes, a driver will hold his horn down until the car in front of him moves and sometimes the car doesn't move for awhile.  It can be quiet annoying. I sometime scream, "That's enough!" in hopes that they'll stop, but it never works.
If you guys or gals let me know if you like it or not, I can start taking more videos from taxi windows.  I could make a series out of it and call it China by Taxi or something like that.  Phil uploaded a similar video in 2007, and for some reason, people have gone crazy in the comment section.  It's mostly people just ranting about China related stuff, but I find it somewhat hilarious.  The video, in 4 years, has had over 76,000 views – which is nothing compared to some of the  other videos on Youtube.  I don't know why so many people have found a two minute video of buildings through a window so exciting.
I'll post Phil's video, too, because I don't think I've ever posted it here.  You can decide for yourself why so many people have found it entertaining.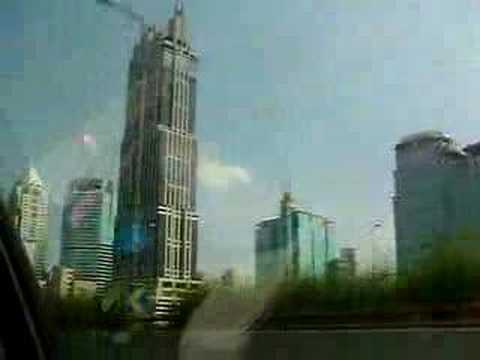 And here is my video.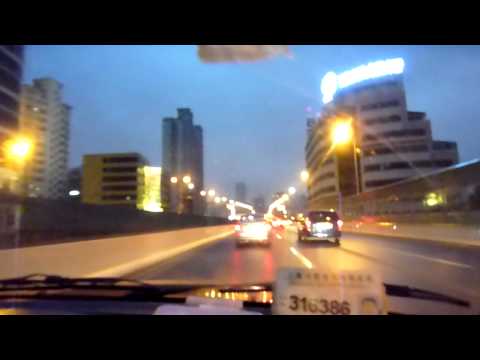 And before I go, here is a cool picture of the Oriental Pearl Tower.  It was a rainy day and the clouds were really low.  It would not have been a good day to ride the elevator up to the observation deck.  Well, maybe it would have been cool to stand in a cloud.