I love to write/type and talk about how interesting/crazy my life is or can be, but for the longest time, I have had zero desire to say anything about China.  I have had a lot of great experiences, seen a lot of cool stuff, eaten very strange foods and taken a lot of pretty pictures, but I just can't seem to get myself in front of the computer long enough to write something for the amusement of the world.
Is the world even still there?
I am hoping I can get over this stupid blog flu soon, as there are a lot of new and exciting things about to happen in my life.  For one, Phil and I are moving to Shanghai in January, and to top things off, we are making a quick stop back home to get hitched.  I'll get in to all that later . . . but for now what do you guys think about using the following picture as the engagement photo in the newspaper?

  I think it is perfect! It would make people reading The State Newspaper say, "What?!"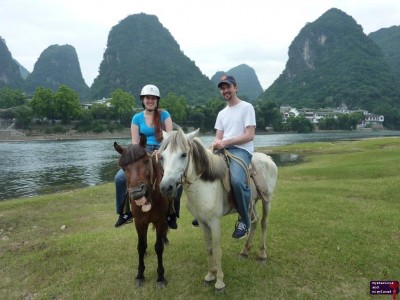 FYI, that is the stupid horse that decided it would be cool to roll me.  It wasn't.  Thankfully, he didn't hurt me.
I'll be sure to sleep a lot and drink a lot of fluids so that I can get over this blog flu soon.  World, if you are there, don't delete me from you bookmarks just yet. I'll be back and be better than ever before too long.