Demon? Gas? Me moving the covers quickly?  I'll let you decide, but my vote is for a demon.  I'll wash his mouth out if I ever get the chance.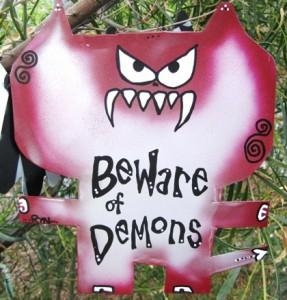 Here's the monster cursing.
Audio clip: Adobe Flash Player (version 9 or above) is required to play this audio clip. Download the latest version here. You also need to have JavaScript enabled in your browser.
Nothing special.  Just me trying to figure out what someone said.
Audio clip: Adobe Flash Player (version 9 or above) is required to play this audio clip. Download the latest version here. You also need to have JavaScript enabled in your browser.
"That's what I was thinking."
Most commonly said by those who have no freaking clue what is going on. Yet, they feel compelled to say, "That's what I was thinking!" In hopes of you thinking they might just be smart or cool.
That weird crackling noise after I said," That's what I was thinking," is me laughing according to Phil.
Audio clip: Adobe Flash Player (version 9 or above) is required to play this audio clip. Download the latest version here. You also need to have JavaScript enabled in your browser.
Apparently, in my sleep, I have learned how to speak whale.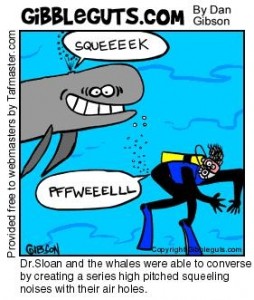 Audio clip: Adobe Flash Player (version 9 or above) is required to play this audio clip. Download the latest version here. You also need to have JavaScript enabled in your browser.
So, despite what Phil believes, I think that the demon that was cussing at me earlier came back to the room and scared the piss out of me.  Here is the transcript of what I said or at least what I think I said. The bold and italicized is what I think the demon said.  Uber creepy if you ask me.
"It is . . . oh . . . oh . . . it is . . . It's me . . . what is that right there . . . who is there?"
After typing "It's me" into Google, I figured out what really must have been in my room.
Cookie Monster, of course.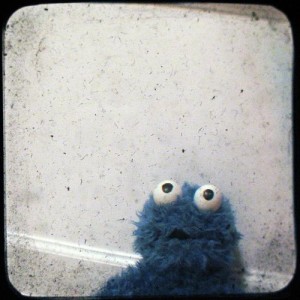 Audio clip: Adobe Flash Player (version 9 or above) is required to play this audio clip. Download the latest version here. You also need to have JavaScript enabled in your browser.