Well, not really, but I can now say that my face graces a website, a few million brochures, a hand full of billboards, and even a few posters. The best part is that none of them are porn related at all!
These pictures are a bit old, but they were a part of a post I started and never finished while I was in China. I thought you guys might get a laugh out of them. In Xiamen, we couldn't go far without seeing our face somewhere. I kept waiting for a stalker to appear, but the only thing that came close was a random taxi driver that knew exactly where we lived without saying a word.  It totally freaked me out.
If you want to see the website, you can click here.  There is an English version, but the last time I checked, there wasn't any riveting reading or anything.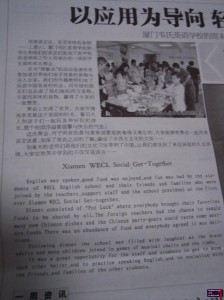 A picture of the article that was in the newspaper the day after our pot luck dinner. I made Beanie Weenies, and everyone seemed to enjoy them. One attendee even asked for the recipe, so that she could try making it herself.  I'm in that crowd of people somewhere.  Can you see me?  Oh, instead of taking their food back to a table, all the students and their friends stood around the table the entire time.  It was rather comical, really.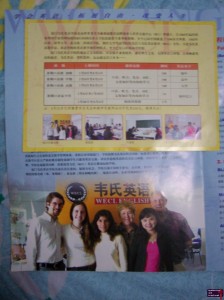 These are two of the brochures that the school would hand out to prospective students.
The small yellow one advertised summer school courses.
The bigger blue one advertised all of the courses offered at the school.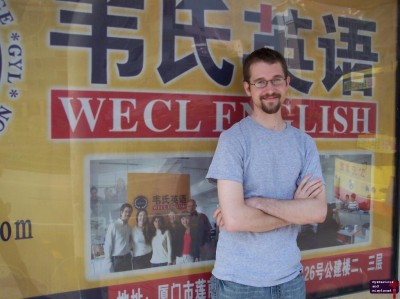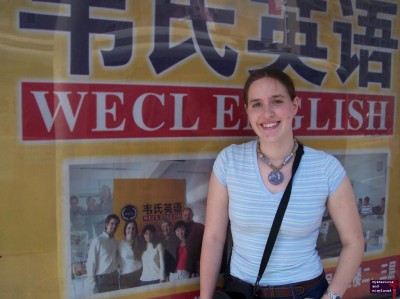 The school purchased several bus stop billboard spaces and slapped our pretty faces on them.  Sometimes we'd be standing there and one of the local people would look at the billboard and then us and then back to the billboard.  They then would point and smile and sometimes laugh.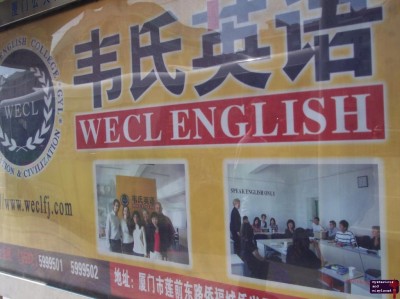 Same bus stop billboard, but without Phil or myself standing in front of it.