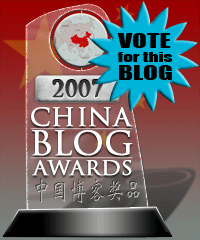 For those of you who haven't heard of the 2007 China Blog Awards, let me give you the low down.Over at Chinalyst, there is a competition of sorts taking place. It's basically a venue created for people to vote for their favorite China blogs. Well, as you can imagine, being a China blogger, I am one of the many in the running for the pretty award you see to your left.
I'm not going to beg or anything(oh, please, please, vote for me) but I thought I would at least bring it to your attention so as to give you the opportunity to voice your opinion.

Voting is fairly simple. All you need to do is click on any of the blue links you see in this post or the picture with the pretty award, scroll down until you see my blog's long title strewn across your screen and click on the little plus sign below it. And wallah, your done!
After you give my blog some love, you can peruse the many other China blogs that perhaps you haven't stumbled upon yet. There are a lot of good ones out there. Maybe you will find some more blogs that you feel like voting for – there are several different categories. Mine is under personal blogs, if you didn't know.
Thanks a bunch.