During May Week, Phil and I decided not to try and fight the billion and one other people trying to travel, so we stayed in Xiamen for our vacation instead. During our time we went to many of the tourist spots Xiamen has to offer including the Wanshi Botanical Gardens. It is a very beautiful place and much larger than I thought it would be. The entire time I was walking around and up the mountain side – I had a hard time believing I was actually still in the middle of Xiamen because it sure as heck didn't feel like it. Here are some of the pictures that we took. If you get a chance, I would go. Bring nice walking/hiking shoes with you if you to walk the entirety of the the park. It's that large.
Oh, and watch out for creepy looking, possibly infected cats with rabies. One tried to attack me, but I'm not sure if he was old or sick. I'm just glad he wasn't able to bite me and have me find out the hard way. I get shivers just thinking about it.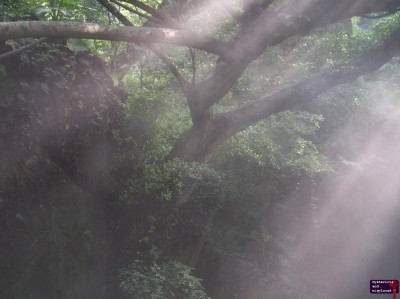 The rain forest mist and the rays of the sun. I say rain forest because it was all an elaborate hoax to make you feel like you were somewhere you weren't. There were sprinkler heads every where spitting out mist to give it that rain forest feel. It was called Rainforest Valley or something like that and made me laugh.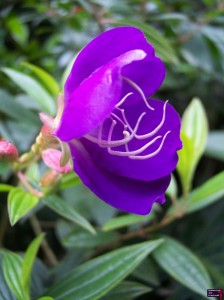 The Spider Flower of Death! Heh. It was purple. It was pretty. I took a picture.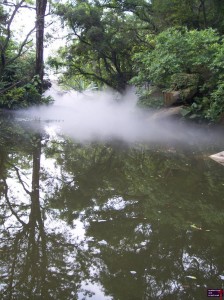 For a second, I thought that this odd looking wall of fog was coming to get me like that mysterious, evil smoke that likes to kill people n "Lost". But then I remembered it was just the massive amounts of mist being sprayed from the army of sprinkler heads.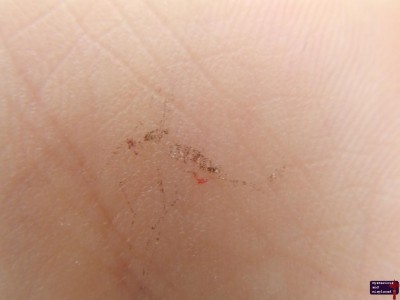 If you look closely, you can see the outline of the mosquito that Phil slapped dead.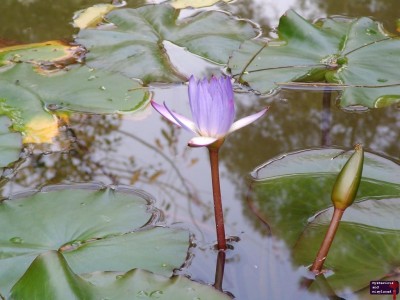 A pretty purple flower lily.