It was a pretty day out, so Phil and I decided to take a little stroll through Xiamen and see what all the streets and alley ways had to offer. Eventually we plan to stroll through it all, but that I'm guessing will take longer than the time we have left to stay here. That is, unless Phil gets that job at Dell. If that happens, we will have more than enough time to scout out every nook and cranny.
On this particular outing, we began our little adventure by having lunch at Pizza Hut on the 24th floor of a building that over looks Gulangyu – a very cool island uninhabited by buses or cars. We were seated by the window and greeted with a fantastic view. The waitress informed us that it would be a "little hot" because the sun was angling right in our faces, but due to the fact that I would never quite get a view like this elsewhere – I didn't mind the free sauna treatment that came with our meal.
After lunch we took off down Zhongshan Lu, the pedestrian/shopping street here in Xiamen. If you like to shop and nibble on fancy smancy treats from brand name vendors – this would be the place to go. Me being the backward-ass-woman that I am, I try to avoid this section of town for the sake of my wallet and my inability to spot a fashion disaster a mile away.

I blame the latter of the two on me having two older brothers who taught me that blowing things up and running around barefoot were cooler than brushing the hair of one of My Little Ponies. But anyway, I digress, like usual.
After running past Nu Ren Lu(Woman Street), yet another street dedicated to those who love to shop 'til they drop, we crested a hill in search for Zhongshan Park. At the top of this hill though, the only thing we could see was some smoke billowing out of a trash can. We stood in awe of it for a minute as the wind factor just made it worse. Soon a well dressed business man came outside and tossed a bucket of water one it. It sizzled and smoked a little more and then it died.
Just down the other side of the hill was what we were looking for – free of dresses, expensive jeans, and bright frilly colors – well, at least in the clothes department that is.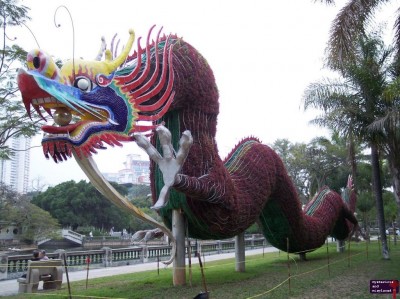 I don't know, if I was four, I think this plant based
dragon would scare the poo out of me.
After a stroll through the park and watching some guys do some wicked tricks on some Rollerblades, we made off down another street in search of some more cool finds. It didn't take long to come upon one of the many newly built malls that seem to be everywhere I turn. Xiamen isn't that big, but man, these malls kick the crap out of the ones I'm used to back home. The one in the picture below was five stories and about as long as the main corridor of the Columbiana Centre Mall that I frequent on occasion back home in Columbia, South Carolina.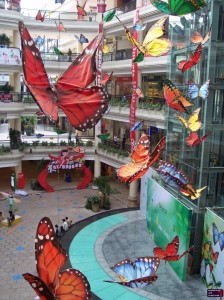 Massive butterflies taking flight.
Also, in this ocean themed(or at least it seemed to be) mall, I came across a stretch of sea horses. With only a few clicks left on my camera, I snagged a picture of one of them. Not all that impressive, or Chinese, I know, but it goes with my title.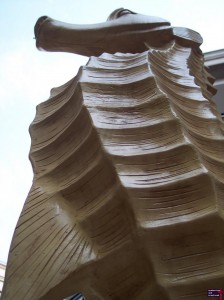 Under the watchful of a Sea Horsey.