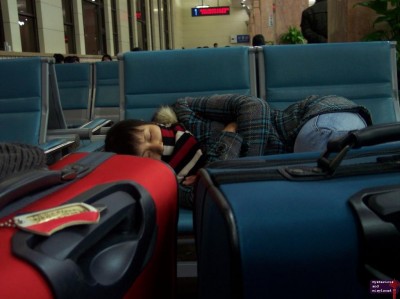 So, there we were, sitting in Beijing's soft seat waiting room hoping that we would be able to interpret what the loud speaker was saying in Chinese so that we wouldn't miss our train to Shenyang. Every once in a while the word Beijing would flutter into our ears followed by a string of words we couldn't understand and then Shenyang would register. The train station was packed and busy with people running from here to there and there to here. Somehow or another there were a few people, like the girl in the above picture, camped out and sleeping on the seats provided. All was insane as usual.
I heard a Chinese saying yesterday that is rather similar to one of our western ones, and it made me laugh. In America, when things get hairy and out of control, we commonly say, "It's a zoo in(out) there." This statement might refer to a busy shopping day, like Black Friday, or a simple trip to Wal-Mart to buy some groceries – which may or may not be so easy depending on when you go. Any time during normal waking hours is usually a bad time to go. And recently, vampire hours have made maneuvering Wal-Mart a task.

I don't exactly know why we chose the word zoo to describe how crazy things can get, but I'm sure it has something to do with how mischievous animals can be and how quick they can destroy a room if you aren't there to stop them. Monkeys are espeically talented at doing said thing.
In China, it's not zoos that people refer to, but instead train stations. If you have ever been to China or had to wait in a train station at any point of the year, but more importantly during major holidays, you can understand why completely. So, when things get a little out of hand here, and oh, they do, the Chinese say, "It's a train station in(out) there." Same idea. Same meaning. They just compare it to something different: Themselves. I find this especially interesting. In America, we pick on the lower evolved species that can't defend itself, but the Chinese call themselves out. They have no problem admitting to the insanity they cause in train stations and bus stations alike when they all try to get somewhere at the same time. That's no joke either. A sea of Chinese men and women will bombard the ticket taker as if the train is about to leave at any second, but the truth is that two seconds ago it was announced over the loud speakers that it was all the clear to board. They always seem to be in such a rush, and I can never figure out why. The insanity may be the worst in the actually train station, but things are just as crazy in mnay other places in China as well. I don't get as stressed out as I used to over it. Now I just smile, and squeeze along with the rest of them like I'm one of the crowd.
Ah, "It's a train station in(out) there".
I'm turning Chinese.