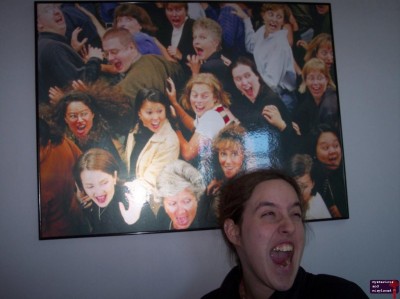 THE HORROR, THE HORROR!!!!
Run for your lives! Save yourself!
Oh, dear GOD! What is that?!
That's a tough question really, but if you use your imagination, I'm sure you can think of something creative. My idea was that they were all foreign teachers that just found out they were living and working illegally in China. In all the confusion and mass hysteria of trying to leave the country, they were rounded up by the Chinese Alien Control Cowboy and were being thrown one by one into a pot of boiling water to be made into Laowai Tea. Hmm, sounds tasty, huh? Laowai is Chinese for foreigner or outsider, by the way, if you didn't know.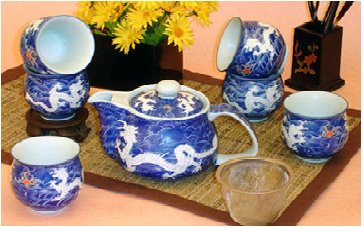 Well, on a more serious note, that crazy poster I am posing next to was one of the posters that the former Shenyang WECL English School had hanging in the hallway. Former you say? Yep. Former. When we left to go to Beijing to get our health exam, Shenyang WECL was alive and kicking and trying desperately to find us some students to teach. A week later we returned to find every piece of paper, sign, and poster(including the poster up top) that was related to the school stripped off the wall and thrown into the storage room to collect dust. Apparently, in our absence, they decided that Shenyang WECL English School wasn't doing so hot and that they should pursue other interests until they could get their act together. What did they decide to do? Well, they thought turning the 8th floor of the high rise we were teaching on into a floor of cozy apartments. No joke. The plans for how they would look were lined up on the wall by the front door. And to make things more interesting, when I went into the room where our office had been, all of the desks, including all the other furniture they had brought in were missing.
"Umm," I said to Chris, our friend and assistant, "Where did our stuff go?"
"Oh, they moved it into the other room. Your desk is mine now."
And sure enough it was, along with the computers they had let us use.
"When did they decide to scrap WECL and build apartments Chris?"
"About two days after you left."
Wow. I knew things in China were changing quickly, but that's unbelievable! They didn't even wait until we moved out to switch shop. Another crazy thing was the all of the staff for the school was still there. They just were no longer concerned with who we were and what we were doing there. Apparently, they were now working with whomever decided to reconstruct the 8th floor into apartments. When their job title changed, so did their responsibility. Thankfully, Chris was there to help us get everything situated for our move to Xiamen. He was a great guy, and I'm sad that we weren't able to stay in Shenyang and get to know him more. I miss him.