If you have ever wondered what you would look like in a claymation cartoon or movie, all you have to do is go to any large market in China and say the word. That's what Phil and I did and look what happened. They are pretty freaky, but remarkably good.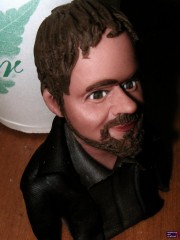 Phil is so suave.
We had seen something like this in Hangzhou, but to save money and space in our suitcases, we decided to pass them up at the time. The kind we saw in Hangzhou were made of clay too, but didn't come in color. When we saw the guy making these at the Silk Street Market in Beijing for cheaper than the variety in Hangzhou we couldn't pass them up. I think that Phil looks more like his than I do of mine, but they are still very cool. For the two of them we paid 160 yuan and it took the guy about 25 minutes to recreate us in clay. Neat, huh?
Gabe will never be as beautiful as she was on the day she was made.