Currently, I am sitting in the Viennea Airport Hotel in Shenzhen, China. Geographically, it's like being in Florida. It's a nice city, and I find it hard to believe that about two decades ago it was a mere fishing village. But, I am way ahead of myself.
Phil and I spent about two weeks in Beijing, walking around and doing normal touristy things. We bought a tourist map at a local bookshop for 8 yuan and tried our best to plan out our days ahead. Beijing may not be that pretty, it's rather bleak and depressing actually, but the one thing it does have is things to do. There are about a dozen temples and parks littered throughout the city, as well as shopping centers, markets and whatever else you can think of. Transportation isn't that bad, but from where we were staying – off of the 5th ring road – it took nearly an hour if not more to get to any one particular place. That had mostly to do with the fact that Beijing is a large sprawling city and we had a hard time finding things within a reasonable walking distance. Even though we stuck to the subway and took taxis when it was the obvious better choice, our poor feet hurt on a daily basis.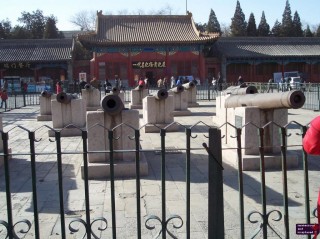 We went to Tiananmen Square which reminded me of a Super Walmart parking lot. It was impressive because of it's size, but other than that it was just a huge slab of bricks and would have helped out the air pollution problem more so if it was a park. Of course we visited the Forbidden City as well. Parts of it were under construction because of the Olympics. Beijing wants the city to be as pretty as can be when the hordes of people come to visit in 2008.
The one thing that these picture don't express is how cold it was the day we decided to go to Tiananmen Square and the Forbidden City. It wasn't the actual temperature that was so bad. For the majority of our stay, the temperature stayed in the 30's and 40's during the day and dipped a little below that at night. The problem was the wind. As I stood in the middle of Tiananmen, 30 mph wind gusts slammed into me and Phil. If either one of us had been a little lighter, I think we would have experienced what it was like to be a kite and joined the others fluttering above our heads.
It was in Tiananmen that we learned of the first of many Art Exhibits of the day located in the area. As we were walking around, a young man and woman approached us and began talking to us in English. They wanted to know where we were from, what we were doing in China, what we thought of Beijing, so forth and so on. They explained that they were art students and that they had some of their art work in one of the fancy buildings we were standing by. Supposedly it was free and that they just wanted to show off their traditional Chinese paintings. They tried very hard to get us to follow them in, but Phil and I have grown wary of Chinese people wanting to show us something special and free. We have found that almost everyone has something to sell a foreigner, and more times than not – it's a scam. We declined and went about our business. At that point in time though we thought that they had both been sincere and didn't think too much of it, but within the next 30 minutes or so we were approached by another man wanting to show us the same thing. He seemed as friendly as the last guy, but decided then that it was probably something we wanted to avoid. The funny part is that by the time we got down walking around Tiananmen and the Forbidden City at least 10 other people from 10 other exhibits asked us to come look at their art work. Some where more persistent than others. Eventually we just had to start ignoring them or telling them we had already seen it which really confused them.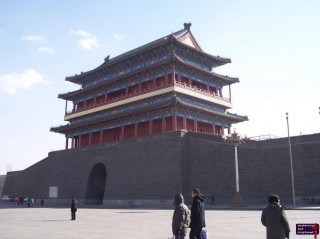 We'll have to go back when our parents come in July. It may be windy then too, but at least it won't be so blistering cold. The wind made it very hard to enjoy everything and I didn't get as many pictures as I wanted because my fingers were too cold to snap them. I'm surprised my camera actually worked. There was one night that it absolutely refused to take a picture of a temple. It was that cold. We more or less ran through the Forbidden City trying our best to avoid the dirt that came with wind. I had heard about the dust storms before hand, but I didn't think it would be that bad. There was a thin layer of dirt constantly sticking to the chap stick I kept putting on my lips to keep them from drying out. When I would breath, the little grains of dirt would fly into my mouth and for hours I could feel them gritting between my teeth. Yuck, yuck, yuck is all I have to say. Next time I am going to wear a surgical mask like some of the other visitors I saw that day.

The one thing that I never knew about the Forbidden City is how big it is. It's massive. Just when you think it is about to end, there is yet another section to explore. I'm sure that there is a lot we didn't see due to the fact we were trying our best to get back into the warmth of our dorm. It may have been more helpful to have had a tour guide since we didn't know the history of the place. I think the next time we go I'll fork up the money for it. Maybe by the time we get back they'll be done with the construction and we'll be able to see it without all the scaffolding. There was one particular building that they were working on and had built a wall up in front of it. They had painted the wall to look like it would have had it not been for the construction. I found it pretty funny.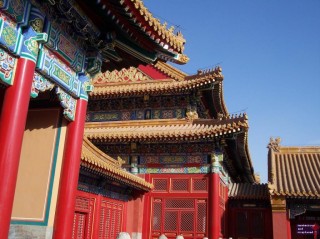 During our two weeks we saw a few markets and some other touristy spots, but for the most part we stayed inside our dorm to save money. We found out not long after we got to Beijing that we would be taking a trip to Hong Kong because our last school had kept our important documents(ie visa and foreign expert card) too long and had let them expire. Because of the New Year approaching, we had to take a plane to Shenzhen and then cross the border into Hong Kong. It's nice that we got to go see Hong Kong, but I had hoped that I if I went there, it would have been under different circumstances. So far, this little trip down south has been entirely on our bill causing us to burn through our savings and reimbursement of our plane ticket to China. As far as I know, our trip back up north is on our bill as well. Guess we've got to make the best out of bad situation. Seems I've been telling myself that a lot lately. I'll get into that and our trip to Hong Kong in my next post. I'll also post some more pictures for those of you curious as to what we have seen thus far. So, until next time. Laters.