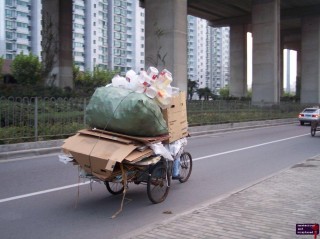 This is a bit on the late side of things, but hey, late is better than never. These pictures of course come from the time we spent in Shanghai during the National Holiday – aka The Golden Week. Since pictures say a thousand words – I'll keep this nice and short.
A common thing you'll see in China is the way garbage is carted away. If it isn't the little garbage truck that sings "Happy Birthday" over and over again it's the cart/bike you see stacked as high as possible with trash. When I took this picture, the guy peddling it down the street was aware that I was about burn his image into my memory card for all eternity, so I had wait until he was blocked by the cardboard box. People make me nervous when they know I'm taking their picture and I'm sure that feeling is vice versa. On average, I see about ten of these a day. I always think they are going to topple over because they have so much stuff on them.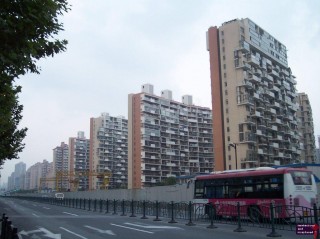 It doesn't matter where you go in Shanghai – this is the scene you will encounter on every street corner. Shanghai is something like 8 times bigger than New York City. If I ever make my way there, NYC will look like a small but busy ant hill.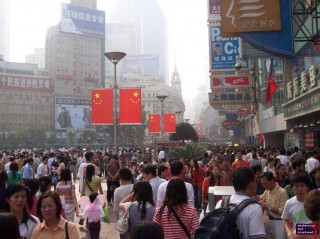 Nanjing Road, and all of its madness, is a long pedestrian road in Shanghai. Once was really enough for me because it's just one big, expensive name brand store after another and more people bombarding you than you can shake a stick at. It was a sea of black heads all around me. I'm just glad that I was taller than most of them so I could see what was to come. If you look closely you can see the KFC sign on the right.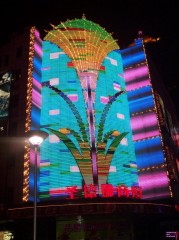 It was a little like being in Vegas. This is just one of the buildings on Nanjing Road. At night, the entire road is lit up and it's very beautiful. At about 10 or so at night they turn off all of the lights to save energy. I wonder if they do the same in Vegas. I had some pictures of the Bund(another touristy place in Shangahai) as well, but they came out all fuzzy and blurry. My camera doesn't like taking night photos. This one didn't turn out so bad, though.
And this here is how the Chinese keep out people they don't want coming onto their property. I ran into a lot of things jumping fences when I was meter reader, but I never came across glass shards. I've actually seen this quite a bit in China. Hey, if it works, use it.