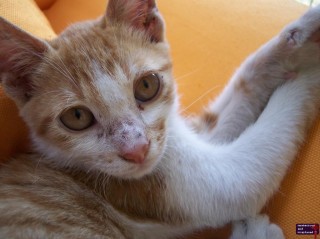 There has to be as many stray cats in China as there are dogs, if not more, but that's okay because I love cats. China could not possibly have enough for me to love. And I would love them all if they would let me.
If you walk down any street, you'll see them. They'll be in the windows, laying in the shops, lounging on the stairs, or running for their lives down the street and into an alley way. I just pray that they are not a main course on anyone's plate in any of the restaurants, especially mine. I could probably live knowing I just ate Fido because a small part of my soul will always hate dogs after working at Bermex, but I don't think I would ever forgive myself if I ate a four legged creature that could purr.
For the most part, they are terrified of everyone or maybe it's just me. Maybe the whole white aspect of my being is just too much for them to take. Some times I meow at them and they meow back and look a little curious, but for the most part I can't get close enough to pet a hair on their head. If they see me coming they bolt the other way. One second they're there and the next they're gone. It is really quiet depressing. Now that I think of it, maybe they run because they think that I am going to eat them . . . I mean, I am in China where they eat EVERYTHING. And I mean everything.
The first photo is of Meow Meow, a kitty we found at the hostel we stayed at in Shanghai. It was where he had decided to live when he was just a wee little kitten(he's still small enough to be considered a kitten) and the owners of the place let him stay. He was a very cute little kitty, as well as curious and a trouble maker to boot! During the days that Phil was too sick to do anything, I would go down to the lobby and pet him. He always thought I wanted to play and he would try to bite and scratch me in the playful kitten way of course. When I showed him Gloria, our cricket, he tried to eat her, but he couldn't get her through the cage. I'm surprised that Gloria didn't kill over in shock.
The last day we were there Phil went and got us our last McDonald's meal that we will have for awhile and brought it back to the hostel. We ate it in the lobby since we couldn't go back to our room anymore. We had checked out, but our train didn't leave for another two hours. Meow Meow could smell our food and tired so hard to get to it. I gave him a little taste of a fry. What a mistake that was. He wanted more. He started the "I'm a poor defenseless starving kitty" act and had a perfect meow to go with it. He got a few more pieces out of me. I'm weak, what can I say. When we threw our left overs away, he went and sat next to the trash can and got popped by the owner each time he tried to carry any of it out. I felt so bad for the little guy.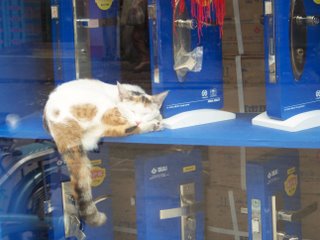 This is a photo of one of the random cats we saw while in Shanghai. I took the picture because he looked so cute sleeping in the window. It was the way he had his tail dangling that won me over. Although, cats look cute no matter what they are doing. Heh. If you can't tell, the shop was for door handles. I tapped on the glass to try to get his attention, but he was sacked out. His ears didn't even flinch when I hit the glass.
Seeing all these cats made me miss my poor kitty, Morgan. I will be looking forward to seeing her when I go back home. I know that she won't run from when she sees me. At least she better not or I will cook her up Chinese style!!
One more cat story and then I;ll bring this post to a close.
Last week, I went and sat in on one of Phil's classes because I had nothing else better to do. And I didn't feel like hiking up those six flights of stairs just to come back down them an hour later to eat dinner. He was still telling them about our trip to Shanghai instead of doing a lesson he should have (bad Phil) but the kids enjoyed it more so that makes it okay. He showed them some of the pictures we took and the kids ewwed and awwed. Very typical. They eww and aww over just about anything. When Phil got to a picture of me and Meow Meow he pointed at me and said, "Ta ai mao." It means, she loves cats. Forgive me if I spelled cat wrong in Chinese. The kids though that was pretty cool and class continued fairly normal for the next few minutes until the back of the class erupted in shrieks and yells.
I had no idea what was going on. All the girls were making a fuss and everyone was jumping out of there seats and standing on them. I thought maybe a mouse, a rat, or a big bug had run into the room. But I was wrong. Before I tell you what they were screaming over, although, I am sure you know, Phil's class room was on the second floor and a little ways away from town. It ended up being a cat. Yes, a cat. (I am convinced that I willed it into existence.) Someone yelled that it was a cat, but I didn't believe it until someone actually picked it up and held it out to me. The cat was not happy at all. He was meowing like Morgan does right before she rips me to shreds. I grabbed the cat and tried to get him out of the classroom as quick as I could, but I found that difficult because all of the kids were more or less surrounding me and the stressed to all hell kitty was trying to wiggle out of my arms. I got him out of the classroom though and then found myself asking what in the world to do with him. I didn't just want to let him run loose. He was in the middle of school campus and anything might happen to him. And that is when it hit me. This cat looked familiar. I even recognized his meow, which was really deep and coarse. Some of the kids insisted that he was theirs, but I knew they were lying. I asked them what his name was and they had to think about it and then picked a random one off the top of their heads.
The cat ended up being from one of the noodle shops at the bottom of the hill the leads to the school. I had seen him there on a few mornings and had petted him once or twice before getting on the bus to go to my school. I don't know how he got to Phil's school or what he was doing on the second floor, but I decided that it would be best if I walked him back home. I tried to carry him, but he didn't like that and growled something awful. I must say that he didn't bite or scratch me at all during his awful endeavor. At one point, I put him down and he started meowing at me and purring. I walked a way from him a little and he started following me. Believe it or not, the cat followed me almost all the way back to his noodle shop and the only reason he didn't is because I picked him up. I thought there was too much traffic and he might run off if cab or something honked at him.
Once I got to the noodle shop, I put him back down and he seemed to know where he was. He plopped down on the stairs and started taking a nap. I went in and tried asking someone if he belonged to them, but of course, no one spoke a lick of English. I was about to give up and let the poor kitty fend for himself when a woman that could speak English showed up. I told her where I found the cat and that I knew it belonged here because I had seen it a few times. She asked a few of the workers if they knew who it belonged to, but they didn't know. She said she was sorry and that she thought it was a stray, but then a guy walked out and started talking to the lady. She told me that he knew it belonged to the owners of the shop but they weren't there or something like that. The lady said that it was a very nice thing that I did. I said no problem, and went on back to school so I could have my wonderful canteen dinner.
It wasn't until later that I feared that maybe the cat became someone's dinner at the noodle shop. I surely hope it didn't or else I would feel really bad. I walk by the shop every morning hoping to see the cat again, but I still haven't and it has been a few days. Of course, I didn't see him that often there to begin with. Maybe he ran away again or the owners of the shop took him home. That's what I hope anyway. That would make me happy.