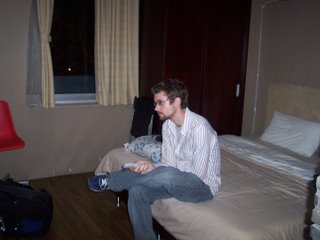 We stayed at a hostel for the week we were in Shanghai. I had never stayed in one before, and didn't know what to expect. I always had visions of dirty, cheap places where you roomed with 8 other travelers you didn't know. This was not the case with Koala International Youth Hostel. Phil and I booked a room for ourselves with a private bath and a small kitchenette. It also came with cable TV and internet access in the room. The one thing that was right about my vision of hostels was that it was cheap. It cost Phil and I a total of $144.00 for the both of us for 5 nights or roughly 990 yuan. It was a very good deal.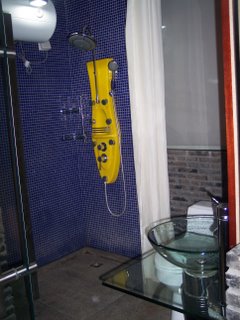 '
Here is the view of our bathroom. The big yellow thing is the shower and the white thing on the wall is the hot water heater. In China, it is very normal to have a shower like this one. Even in our apartment, our shower consists of the wall and the floor. The hostel did give us a shower curtain though – which we used for an entirely different reason. The door to this particular bathroom is one big sliding glass door. Yep. A glass door. One that you can see through. So, Phil took the shower curtain and rigged it up so that you wouldn't have to watch other people sitting on the pot. I'm glad Phil and I know each other pretty well – or else it would have been 10 times more embarrassing to go to the bathroom. The glass door nor the curtain could keep out the sounds. I'll leave that to your imagination. Another good thing was that we got a western toilet. Squatting to use the bathroom, to sum it all up, just plain sucks. Also, if you use a public bathroom, you should always bring your own toilet paper. If you don't – you could find yourself in trouble. This is also a norm of China. Holes in the floors and no toilet paper to wipe your bum. Nice visual huh?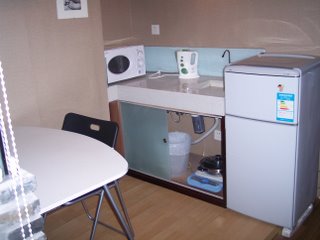 And our little kitchen. I was surprised to find a microwave, a refrigerator, a table, and a pot to boil the ever so famous China water. It was more than I expected really. The refrigerator appeared to be brand new. When I tried to plug it in though, I hit my head on the door handle of our front door. I still have a bump from that. It hurt so bad that two little tears roll down my face. Thank goodness I have a hard head, or else I may have knocked myself out.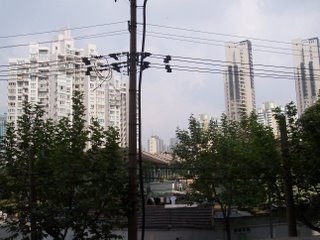 This was the view from our second story window. All of those high rises are apartment buildings. They are everywhere in Shanghai. And I mean everywhere. There are like 14 million people living here and it is 8 times larger than New York. Do note the blue sky in the background. It only drizzled that first day, but after that we had pretty good weather the week that we were there.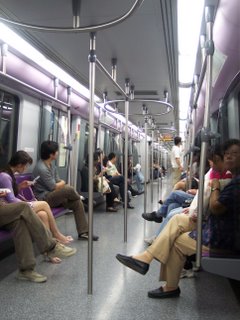 Once upon a time I went to Lisbon, Portugal and I rode the metro there during five o'clock traffic. That was a bad idea, and I will never do that again. Every time that we got on the Shanghai metro, which was pretty easy to maneuver once we got used to it, I had moments of terror – thinking that I may have a repeat of Lisbon all over again. I shutter now just thinking of it.
I'll will post more pictures later, but I have a lesson plan to write for my little devils tomorrow. Ugg. I am not looking forward to teaching again.