Ah. Shanghai. Where do I begin?
Like usually there is so much to talk about, but I'm tired and can't think of all of what I want to say. I didn't take as many pictures as maybe I should have, but that just leaves me with more of a reason to go back to Shanghai one weekend. Heh. I could probably spend several weekends there and still not see everything there is to see. Shanghai is huge and spread out. Every street corner has something to behold. Well, I won't keep you waiting. Here are some of the pictures that I took.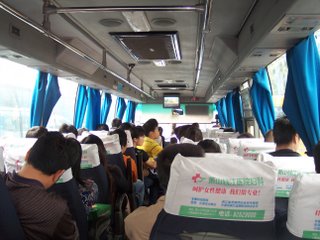 As luck seems to always have it – Phil was sick the day we departed Fuyang for Shanghai. Joy. He was hacking up all kinds of green goodness, but still managed to get all of his stuff together so we could make it to the train station in Hangzhou on time. This is a picture from the back of the bus we took on the way to Hangzhou from Fuyang. The bus, like every other bus, was bumpy for the entire hour we spent on it. I am beginning to think that buses here don't have shocks because you feel even the tiniest bump.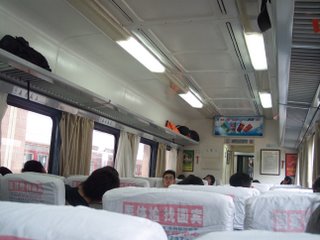 We got to Hangzhou fine. That was the easy part of the trip. Getting to the train station was almost easier because all I had to do was hand the cabby the paper that Ruby(some random Chinese woman) had written on for us last week. It had the name of the station on it. He took off, and before long we were there. Then came the hard part. We had to try to buy return tickets by ourselves without a Chinese helper. With my phrase book I wrote down in the worst Chinese ever that I wanted 2 soft seat tickets from Shanghai to Hangzhou on the 7th of October in the afternoon. It went pretty smoothly, almost too smoothly, and I would find out later why. She handed me the tickets, I glanced them over, and deemed them correct. But they weren't. And I didn't figure it out until we were in the waiting room for our train. My eyes had been deceived! Everything that I wanted was on the train ticket except for one minute and very important detail. That little detail was that the ticket said from Hangzhou to Shanghai and not Shanghai to Hangzhou. 96Y down the tubes, but oh hell, at least it was only the equivalent to $12. It could have been worse. We got on the train anyway, hoping that we could fix the problem once we got to Shanghai. I can totally see why Eric, a guy who came to China the year before us, brought a Chinese friend along with him on his long distance travels.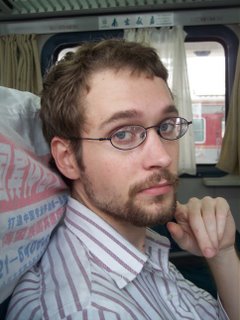 Poor sick Philby. He didn't enjoy his trip on the train to Shanghai. I wasn't feeling all to great at this point either, but Phil was a lot worse off than I. Doesn't he just look so sad in this pictures? He's seen better days for sure.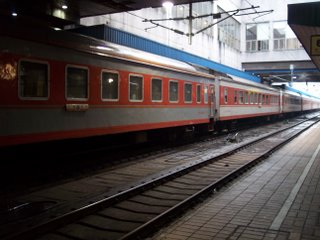 Shanghai Train Station is a freaking maze to get out of. Or at least it was for us. I don't remember seeing a single exit sign that actually led to an honest to God exit. We eventually had to go through an entrance door and that was fun because we had to push up stream through 100 anxious Chinese people who wanted to get IN the train station. It was a moment of LET US OUT LET US OUT vs LET US IN LET US IN(please see the movie Clue to understand this.) And then we had to try to find a taxi who could find Xikang Road where our hostel was. That was an adventure as well, one that got me all frustrated. All I wanted to do was get to the hostel so that we could go and find some food, but no taxi driver wanted to spend any time on us and when we finally got one to stop – it took a good while to finally get him to understand where we wanted to go. It took a bit longer for him figure out which end of the Xikang it was on. Did I mention that it was raining? No, I didn't think so.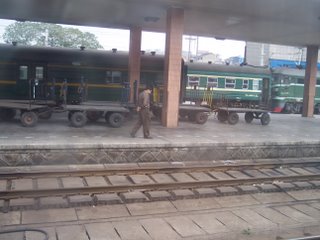 Here is one last picture of the train station before I head to bed. I will post more pictures and tell more stories of our week later, but I be a tired woman, and I need my beauty sleep. I was still sitting in my seat when I took this photo. I don't know why I took it – it is just a man walking slowly down the platform. I wonder what he was thinking at that precise moment in time.