My lovely classroom.
This is where I teach all my precious little devils how to speak and understand English. The room in the picutre is neat only because I had just straighted it back up. I try very hard to keep the desk in pairs. I like to walk around the classroom and it helps keep them from talking more than they already do. Besides the chalk board that is behind me – there is nothing in the room but the student's desks and chairs. It is a rather dirty, dull room. At least I have a "view" being on the 5th floor.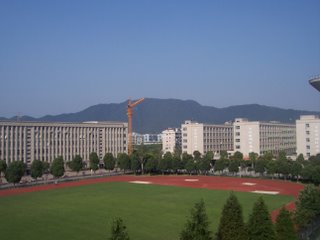 This is the view from my classroom window. That massive building you see on the other side of the track is the Primary School. It is about 7 floors and they have an elevator. Lucky bastards.
I like to watch all the little kids running around outside. They look like little ants and have so much energy. I don't know how I would handle teaching them. Although my kids are devils, I think I have the easiest platform. Note the blue sky. Blue skies here are rare.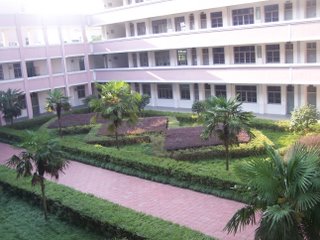 This is the courtyard or the center of the school. The picture only shows half of it, but the other side is identical. One day I saw a kid get pushed into the bushes. The bushes swallowed him and I laughed. The kids here are either A) very affectionate or B) ultra-violent. There is no in-between.

I got bored going home one day and decided to take a picture of myself in the stairwell. I thought I was the only one there, but as I went to go snap the picture – the kid took off running down the hall. It is a weird picture, but I thought it was sorta cool.

Ah. Look at them. Preparing for battle . . . Heh, that would be funny if they were, but no such luck. Every morning the kids have to participate in excerises. It is a pretty long routine, but they remember every little movement they have to do. They don't like it at all and it is all done half-heartidly. The sad part is that my camera could only capture half of the student body. The population of the school could easily beat that of any school back in the States. It is amazing how many people there are here.