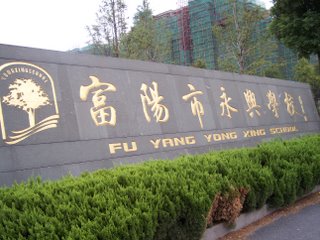 Fu yang Yong Xing School(Foo Young Yong Shing) – A private school filled to the brim with pesky little devils. That is what it should translate into, but no school would admit to such a thing. And if anyone ever asks me what Yong Xing means – that is exactly what I am going to tell them because the world deserves to know the truth.
The day before I taught, I imagined eager, but shy students to stand up and say "Good Morning Good Teacher" along with all the other niceties one would come to expect from such a so-called strict nation. I pictured a quiet class, one that would listen to me and raise their hands to answer questions. I thought that they might know some basic English, if not a little more. I imagined a lot of things. I wanted to believe that Chinese students were what every American teacher dreamed of teaching.
I could not have been more wrong.
I expected a lot a things to happen here in China, but I did not expect to find insane, rude, pesky, loud, annoying, fighting, little devil students in my classroom. More or less, everything I have ever been told or read went out the window the very first day I taught. I had a very serious O.M.G moment. But I kept my cool and tried to teach the helpless buggers anyway.
During my first week, I taught each of my 20 classes(I only teach each student one time a week) about me. I wrote the word introduction up on the board and then proceeded to tell them all the things about yours truly. I told them where I was from and all that jazz. I talked about things I liked to do – where I took a small moment to scare the crap out of them by acting out what kind of books Stephen King wrote. I would sneak quietly up to their desks and say, "Stephen King writes SCARY(insert slapping my hands down on their desk very, very loudly) books!" I almost made them all faint. The girls took it the worse, but I saw some boys trying to catch their breath as well. It is little pleasures like this that will help me get through the next 9 months. I know, I know, I'm evil – but you have to have some kind of fun into the classroom. I did a similar thing with the word crazy. When they couldn't tell me what it meant – I would promptly throw my hands in the air and start screaming, "CRAZY, CRAZY, I'M CRAZY!!" That made them all want to faint again. At least I kept them on the edge of their seat that one day.
Anyways, I told them about my family and how many brothers and sisters I have. They couldn't believe I had 5 siblings. Here in China, they practice the one child policy. I understand why they are doing it, but it is still a little sad. In the end, I had them get up and introduce themselves to me. All they had to do was read what I wrote on the board and fill in the blanks. The read very well, although all the answers were very similar. Copy cats.
This all in all sounds wonderful to you and it almost sounds wonderful to me the way I wrote it, but the painful truth is that they just didn't care. I had to beg people to answer me. No one had questions . They were loud. Sometimes they refused to stand up. I heard "I don't know" 100 different times. I don't know is their way of getting out of not answering and they know that. They don't listen. If I was their Chinese teacher they would have stood and greeted me. That did not happen. The do their homework for other classes on the front row right in front of me. It is truly insane. They fight, they talk, they pass notes, throw money and about a dozen other things as though I am not there. A lot of them don't even bring paper or pencils. I think they think that my class is a free period where they are not required to learn. The worst part about it – is that I think the school knows this and they don't care. It is simply amazing. That is all I can really say.
This week was on Friendship and Best Friends and all that neat stuff. They were so completely uninterested. I am at a loss on how to get them to want to learn English. I have only been here two weeks, and I am about to give up on the aspect. Maybe I should stand in front of class and just say random stuff and see what happens.
They can't even remember my Chinese name for goodness sake. Even Phil's students know my name and they have seen me like once here and there. My students don't remember anything either. I can make them repeat something and make them tell me what it is – but if you ask them the same question 5 minutes later – they have no idea what you are talking about.
I've told some of the bad students that I would eat their souls for breakfast and that I throw bad students out the window and that I even burn homework from another class that is done and my class. I think I may burn the next homework I see someone doing while I am teaching.
Sorry for such the down post – but I hadn't had the chance to talk about it much on the blog. I have more pictures of the school, but like normal – I can only post one at a time here at school for some strange reason.
Phil and I are going to Hangzhou this weekend to get a train ticket to Shanghai during the first week of October – National Day it is called. It is a holiday for just about everyone. I will be looking forward to going. There is a lot to see in Shanghai. One of the first places I am going to will be a Subway(the restaurant) and eat be a sub sandwich. It has been so long since I have had one.
Who ever it was that told me that Chinese food is good and filling lied. I hate you. And I mean that it the most loving way possible.