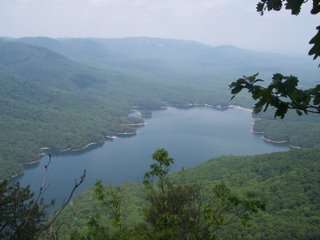 My first attempt at getting this photo was a complete and utter failure. But because I cannot stand defeat(it eats me up inside), I more or less trained like a mad woman for 7 months. Of course, it did help that the working out coincided with my job. Next to boot camp, meter reading is probably the most grueling job a man or woman can have. I cannot express the pain that I endured during those long, often cold, hot, wet days. I had to walk 30 miles on many occasions, jump fences(big fences), and run from dogs that really wanted to eat me (and some times did) in all the weather that mother nature could conjure. In short, I would not suggest doing said job unless pain is one of your finest pleasures.
But anyway, back to the picture at hand. After seven months of dog bites, poison ivy, nails in the foot, and wasp stings that come to find out I am allergic to – I went back to the fearful mountains known to so many as Table Rock. I figured that if I couldn't climb this beast now, I never would be able to. For those of you not familiar with the Table Rock trail – let me give you the low down. It's about 4 miles up hill. It's steep. It's strenuous. And if you aren't in reasonable good health, you probably won't make it all the way up without having a heart attack or something like that. But if you do make it all the way to the tippy top, it's a very beautiful sight to behold. The worst part of the climb is the steps. There are countless sections that forest rangers have turned into staircases. They consist of rocks, roots, and leveled off sections of ground. You actually have to put some effort into going from one step to the other because there is a large gap between each of the steps. (I imagine that is what the Great Wall is going to be like.) If you can make it through those, there are a few sections with slight inclines that allow you to prepare for the next set of what I like to call "high-steps". Also, there are a few places that allow you to stop and rest and take in the scenery of the mountain side.
Some key advice on making it through: if on your way up Table Rock you start to have a hard time breathing or you begin to lose faith in your ability to reach the top – just take a 5 minute break, catch your breath, and try to picture the view that you will see when you finally reach the top. There are no roads that take you to the top for cheaters who want the reward but not the hard work. So either take it like a man(or a woman) or just dream about what could have been your accomplishment by looking at my photograph. It is worth every agonizing moment though, I promise.